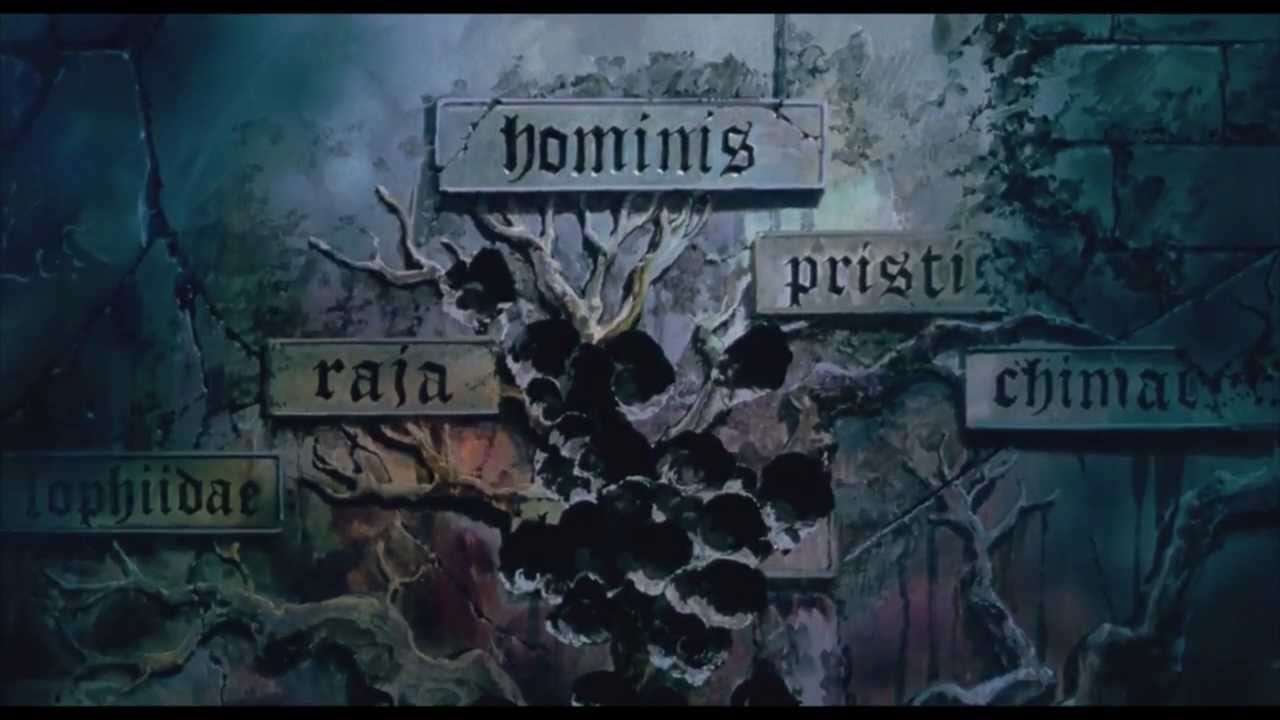 Messziről kezdem, hosszú leszek, mint a Kuang Eleven. Filmrecenziót írni duplán jutalomjáték: rásütheted bármire, hogy szar, aztán beszaladhatsz a szabad véleménynyilvánítás polkorrektre szopott indoka mögé, akár értesz ahhoz, amit írsz, akár nem. Nehezebb már úgy recenziót írni, hogy nem ismeretlenek a gyártás körülményei: akár azért, mert pontosan tudod, hogy az adott film hogy készült; akár azért, mert voltál már a gyártóoldalon és tudod, hogy alsó hangon is több tucatnyi ember sokhónapos (vagy sokéves) megfeszített, egyben láthatlatlan munkája tartja a bunkerajtót a kritikusok ellenében. A marketingkampány részét adó werkfilmek pont ezt mélyítik el: egyszerre mutatják és magyarázzák, hogy mennyi munka volt a designnal, a koncepcióval, a worldbuildinggel, a fegyverekkel, a hangokkal, a zenével, a mindennel, pont olyan, mint az ideális szülinap, gruppen vagy ezek kombinációja: sokan voltunk és mindenki nagyon szerette, meg hátha olyan lesz, mantrázzuk a mozi felé gyalogolva, mint a Firefly, azt is szeretetből rakták össze, aztán 9/10 felettre hegyezik még mindig a rajongók az IMDB-n, hát hol romolhatna el ez az egész. TL;DR elmondom: pont ott és úgy, amikor életed legbombázóbb nője olyan ostobát mond sztriptíz közben, hogy inkább laprakonyulva nindzsázol haza falmentén, hogy még a CCTV se lásson. Tudjátokmit, részletezem is.
Ami a designcsapatot illeti, szégyenkezésre semmi ok: egyszerre kapjuk meg a nyolcvanas-kilencvenes évek neonkarcos, érthetetlenül fényes, méretes és hangos, platformidegen hirdetéseivel terhelt városképet, a hi tech lo life meg a style over substance erős keverékét. Sőt, továbbmegyek, annyira erős a design, hogy szívem szerint kiszedném a hangsávot a film alól, alávágnék odaillő zenét és a megfelelő szinkroncsapattal újramondatnám a menet közben amúgy teljesen átírt dialógust, amik egy teljesen más történethez is passzolnak. De erre kitérek majd később. A városkép mellett a taktikai osztag felszerelése is jól tükrözi a korakilencvenes évek hangulatát, a sorok között kikacsint a WETA team szakértelme, a feedekben meg a premier óta ömlik Maciej Kuciara meg Ash Thorp ujjai közül, hogy miért vannak a termoptikai páncélon a vágásvonalak pont ott, ahol vannak és miért pont olyan és úgy a motor, amilyen (és ahogyan), sőt, a látványba annyira bele lehet süppedni, hogy még az üvöltő Honda product placementnél sem böffen ki belőled a gyűlölet a corporate bármi ellen, pedighát.
Továbbmegyek: nem zavaró a film még megjelenés előtti első problémájaként felhozott whitewashing sem, sőt, indokolatlannak tartom az ostobaságig elcsúsztatott polkorrektséget is (másodjára emlegetem, biztos gondom van vele, gondolja az osztagpszichológus). Okkal. A film alapjául szolgáló manga, majd anime (és erre kitértem amúgy itt a blogon már korábban, illetve a Cinegore-nak írt anyagomban is) ugyanis írd-és-mondd a japán nemzetbiztonsági szakszolgálat cyberbiztonsági elhárító osztagáról szól: japán bel- és külpolitikáról, japán szerzőtől, japán szereplőkről, japán olvasóknak (és nézőknek) a japán mindsetből megfogalmazva. Ha Amerika hozzányúl a témához és remaket akar belőle csinálni első körben észak-amerikai, második körben európai fogyasztóknak, kötelező elemként fogja denipponizálni a stáb fő elemeit, erre a mozzanatra pedig az eredeti kiadóként működő Kodansha legalább annyira rábólintott, mint maga Masamune Shirow, a manga készítője is, mondjuk olyan jogdíjhozam mellett igen erős érzelmi indok kellene ahhoz, hogy ne bólintsanak rá. A probléma ugyanis nem ott van a castinggal, hogy Scarlett Johansson europid (és nem Rinko Kikuchi vagy Chiaki Kuriyama kapta meg helyette a szerepet), hanem ott, hogy semmilyen nemzet tagjaként nem adja jól a meghasonlott gép-ember ügynököt – ami azonnal elránt minket a film (és az azt követő recenziók) legnagyobb problémájához: az anime támasztotta elvárásokhoz.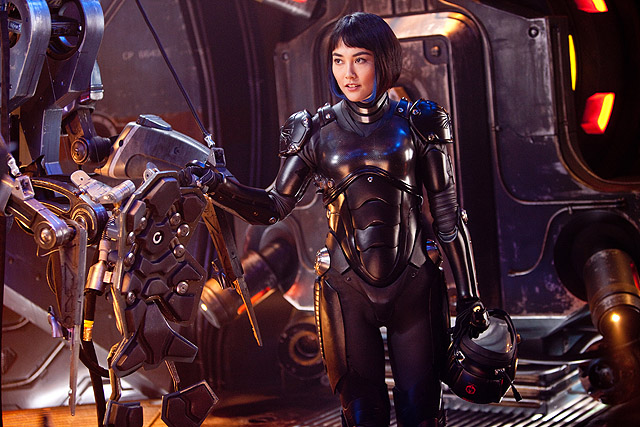 Az 1995-ös anime ugyanis a cyberpunk szubkultúra egyik alapköve. A net születésekor, a technokultúra virágzásának kellős közepén, a misztikusan távol levő, érthetetlen és amiatt még izgalmasabb Japán közepéből érkező anyag a legjobb időben ásta be magát a popkultúra tudatalattijába: kérdései pedig 2017-ben ugyanannyira időszerűek, mint az 1995-ös premier pillanatában. Részei-e a gépek az evolúciónak? A kibővített transzhumanista embereszmény több-e az embernél vagy a szingularitás után már egy más jellegű folyamatábrán kell-e követnünk a tudatos lények fejlődéseit? Egy cyberaggyal bíró ember ember-e még vagy már gép? Ha egyik sem, mi van a kettő között? És bárhol is legyen, megkaphatja-e még a szabad döntés illúzióját? És ha már cyberagy, biztonságtechnikailag hova helyezi ez nemcsak a védelmi cégeket (vagy a katonai és polgári szakszolgálatokat) vagy politikai és döntéshozói elitet, hanem magát az egyszerű, sarki boltba járó civileket?
Mindezen, bármely földrészen értelmezhető kérdésektől függetlenül azonban a forrásanyag japán mivolta nemcsak a babaként látható vagy felfogható gépekben rejlő lélek körüli kérdésekben ütközik ki, hanem a kötelesség tekintetében is. A főszereplő Motoko Kusanagi őrnagy ugyanis szolgál és véd és akkor is szolgál és véd, ha előtte pár másodperccel emlékeztetik arra, hogy nemcsak a szolgálatában áll a kormánynak, hanem a tulajdonában is, ő pedig csak egy bevethető egység, bármilyen jó is legyen. Európai (és sokban civil) szemmel értelmezhetetlen az a rábólintás és lojalitás, ami ezt a helyén kezeli – és Sanders filmje ezen a ponton is csúszik el igazán.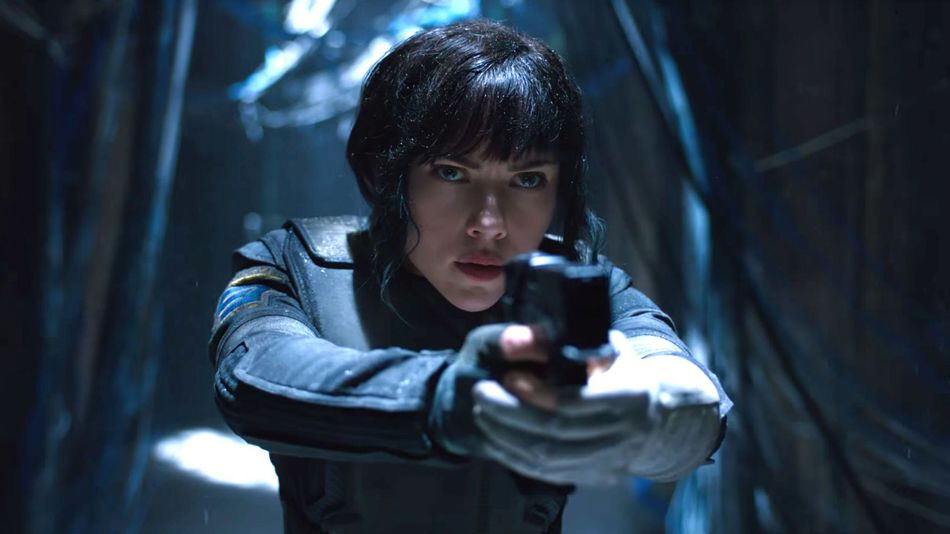 A Ghost in the Shell ugyanis amerikai scifiként buta, japán scifiként labdába sem rúghat, Sanders pedig nem döntötte el igazán, hogy melyik akar lenni. Igaz, említette korábban többször is, hogy gatewayfilmet akar gyártani hollywoodi pénzből, amivel ráhúzhatja a közönséget a forrásanyagra, ez pedig önmagában dícsérendő. Ennek tudatában, ezzel a címmel és ezzel a komplett franchise-zal a háta mögött azonban ez a film egyszerűen kevés. A cselekmény kényelmesen belehasal a klasszikus ember-a-rendszer-ellenbe, ami egyfelől ellentmond mind az eredeti japán anyag történetének (nem megváltoztatja, nem átértelmezi, szembemegy vele, remakenél ezt azért valahogy nem várnánk), mind pedig az osztagpszichológiának, a mangából ismert zavaróan bő és dús worldbuilding eltűnik, helyette akkor és úgy jelennek meg a karakterek, hogy a cselekmény továbbhaladhasson éppenhogy, persze, lesznek apró utalások meg eastereggek meg elrejtett apróságok, amikbe persze beleláthatunk olyanokat, hogy Sanders kikacsintott a nézők felé, hogy Avalon lakópark meg Mamoru Oshii kedvenc kutyája, a basset hound, de egyfelől kell a filmen dolgozóknak is a jutalomjáték, hogy ilyeneket becsempészhessenek, másfelől ezektől a film elviselhetőbb lesz, de jobb, nos, jobb az nem.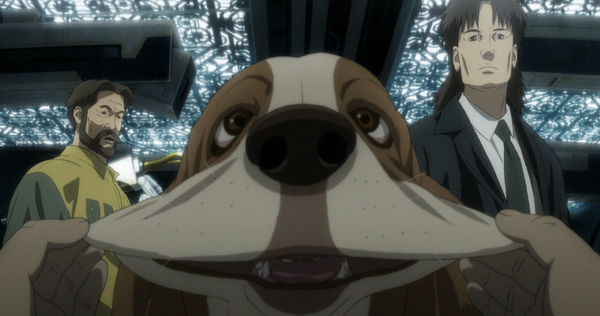 Az alapvető kérdésekből azok szerepelnek csak Sandersnél, amik egy mamafórum tagjaiból egy kávétól paranoidabb gyermekfektetés utáni estén is kiszaladnak: jó ez nekünk igazából? Aztán itt meg is áll az okosság. Kapunk egy nemzetbiztonság által korábban már ledossziézott lázadót, akiből megpróbálnak tökéletes katonát gyártani, 99 félresült prototípus után az első működőt, akit egy évvel az átépítés után már elnökvédelemre küldenek ki, ki láttamozta ezt a protokollt és hol voltak benne a failsafek? Ezen a kényszertabularasázott katonán keresztül látjuk meg tehát a technológiát, az utca emberén keresztül sosem tudjuk megfigyelni igazán. Az anime szemetesautósofőrös mozzanatai például a legsanyarúbbak és egyben a legrealisztikusabbak is civilként, a film viszont teljesen átépítette ezt is (és olyan felszerelést nem teszünk vallatószobába, amivel öngyilkosságot lehet elkövetni, miért tennénk, ki hagyta ezt is jóvá), kiszedve ezzel azt a pontot, ahol azt éreznénk, hogy a jövőben a mi agyunk is törhető lesz és a saját taknyunkon csúszva ébredünk majd fel az évek óta felmosatlan konyhában és kiderül, hogy évekig más dolgait csináltuk a sajátunk helyett, ráadásul a nevünk, a nemünk és az életkorunk is más. Ehelyett csak annyit látunk, hogy termoptikai álca, robotkurvák meg műszemek, ami tökéletesen meg is felel a style over substance filozófiájának, előremutatásnak azonban kevés és ez is a legfájdalmasabb – a legizgalmasabb cyberpunkok (és scifik) ugyanis még a mai napig is képesek előremutatni, ez a film pedig testben ottvan, fejben viszont nagyon-nagyon nem. (Ez egyúttal meg is magyarázza, hogy miért tetszik ez a film annyira azoknak, akik még nem látták és olvasták az eredetiket.)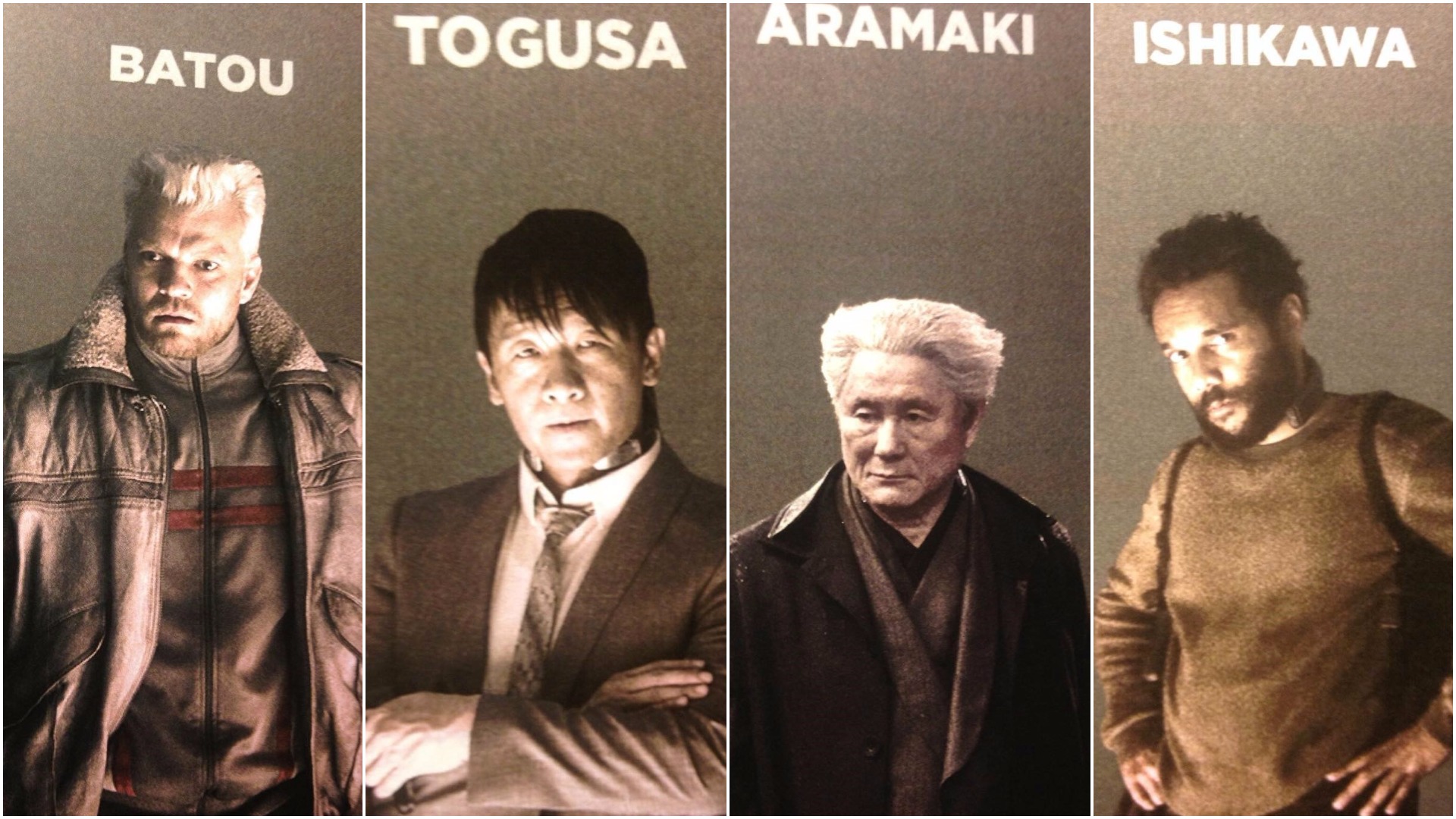 Külön kérdőjeleket vet fel a casting és maga a karakterlista is. Toronymagasan viszi a legjobb screentime díját a Batout alakító Pilou Asbaek, közvetlenül mögötte ott figyel karakterszínészi mivoltában Beat Takeshi, aki most nem yakuzafőnököt alakít, hanem osztagdirektort, nála ütközik ki a film egyik legbutább kultúrrasszizmusa, miszerint ő japánul beszél, mindenki más angolul. (Itt kell megjegyeznem, hogy az egyik legvártabb cyberpunk játékot fejlesztő CD Projekt RED fejlesztői nemrégiben jelentették be, hogy a játék színhelyéül szolgáló városban sok nemzetiség lesz és mindenki a saját nyelvén beszél majd, ha nincs fordítószoftverünk vagy nem beszélünk az adott nyelven, semmit nem fogunk érteni a bábeltornyából.) A Section 9 osztag többi tagját, ha nem láttam volna az animét, meg sem tudnám nevezni, a történethez költött másik nőkarakter pedig genderperspektíva ide vagy oda, de nettó felesleges (erősebb Motoko, ha ő az egyetlen nő a csapatban, aki egyben az operatív főnök is), a megmaradó screentimeban helyett lehetett volna árnyalni Togusát, Ishikawát vagy Bomát jobban. Michael Wincottot eltüzelni az első tíz percben hatalmas vétek, ellenben az ő dialógusainál jön ki az, hogy a film tényleg ostoba lesz és nem a jövőnek szól a jelenből, hanem a múltnak a múltból, mert 2039-ben, amikor már több embernek van mesterséges agyi beültetése, mint ahánynak van Facebook-accountja most, nem úgy kezdünk beszélni a technológiáról, mintha egy óceánon keresztül hoznák szentelt páncélos lovagokkal. Ha a nyelv nem tükrözi a világ állapotát, akkor a forgatókönyvíró (vagy a korrektora) rossz és ezt elnézve nem lehet finomabban mondani: a forgatókönyvíró rossz. (Is.) A főgonosz Kuze szó szerint rendszerhibás amalgámként tévelyeg az eredeti forrásanyag főgonoszai és az észak-amerikai tudatalattiban bújó vendettaéhes emó tinik között, az utóbbi persze győz, a világépítés pedig nála sem következetes, az ilyen félresült kísérleteket szokták igencsak gyorsan levadászni, hogy később ne okozzanak bajt.
Külön fájdalmam a háttérzene, nem is kicsit. Make-or-break dolog a zene egy filmben és bármennyire Clint Mansellnek köszönhetjük a filmzenét, nem ül. Felismerhetetlen vagy megjegyezhetetlen motívumok nélküli string- meg padmunkában ülök majdnem két órán át, hogy kétszer-háromszor dühös legyek amiatt, hogy a Kenji Kawai-féle női kórushoz hasonló minták be-bekerültek, csak hogy érezzük, hogy ez mégiscsak a franchise része, de az igazi hangulatfestés elmarad. Sem az igazi sintoista filozófiát idéző elemek (ha KK zenéje nem passzol a dollokhoz, akkor semmi), sem a szomorú, lassú, füsttekergős lila és kék érzetű bárok, sem a tizenhatod- vagy harminckettedbasszusos veretések nem érkeznek sehonnan – ellenben többször felmerült a Michael McCann által jegyzett Deus Ex: Human Revolution soundtrack hangzása és hangszerelése, amire jobb fülű cyberpunk megadja a tízpertizet, mielőtt rátesszük az idegi megszakítót és megnyomjuk a nagy, nagy fekete mattgombot rajta. Persze a kilencvenes évek elején az iparizenefórumként funkcionáló rec.music.industrialon elhangzott, hogy "a cyberpunk zene az, amit a cyberpunkok hallgatnak", de Steve Aoki meg Tricky helyett jobban megült volna a hangzásképben a Front Line Assembly, Haujobb, Hecq vagy Comaduster (vagy éppenséggel bármelyik ex-Tympanikos zenész), persze a hitelesség kérdése a közmédiában önmagában értelmezhetetlen játék.
De, mint mondtam, el tudom képzelni, hogy x évnyi vagy hónapnyi munka után milyen érzet lehet lófaszláncot olvasni a gyártó stáb helyében, úgyhogy nem összesítem a fentieket még egyszer. Viszont remélem, hogy a Neurománc sosem készül el sem sorozat-, sem filmváltozatban, másfelől pedig javaslom, hogy szinkronozzátok és újrazenézzétek az eredeti képanyagot. Ki tudja, a végén még lehet, hogy nemcsak csinos, de okos is lesz.
VERDIKT: Hang nélkül, pizza mellett, otthon, nagyon nem egyedül.