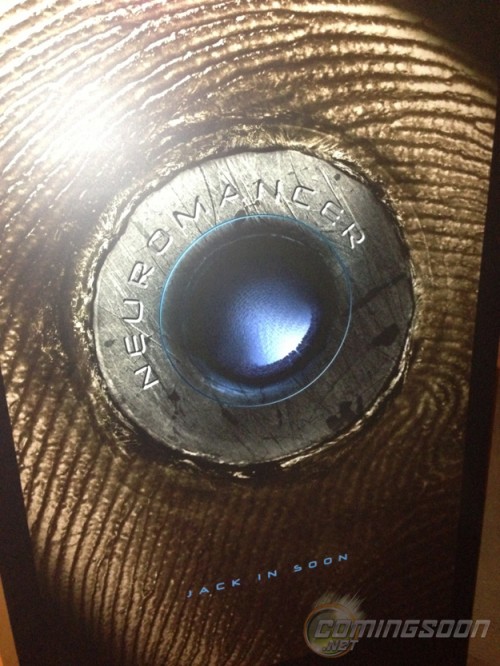 SCRIPT
Vincenzo Natali, the actual director incarnate to helm William Gibson's visionary cyberpunk work has launched his horror movie Haunter. The exclusive Crave Online interview with him also sheds some light on his involvement and the state of the script. If you're interested, head over to Crave for more intel on Haunter, Splice and a lot more!
What's the latest progress on Neuromancer?

It continues. It seems to be indomitable. It's a long haul, like all good things and all things like it that are audacious and challenging. It's not on the fast track but it's very much alive and I'm hopeful.

How close do you think the script is to a final draft?

Oh, the script has been ready for years. That's not the holdup. The challenging part of this is putting the money together. It's big movie.

So you cracked the script?

I think I have, yes. Strangely, that wasn't the hard part. I benefited, first of all, from developing the script very much with the influence of William Gibson, which was tremendously helpful. Then I also had, frankly, the benefit of looking at all the versions previous to mine and learning from their mistakes. I had a lot of beta testing before I went in and did my version. Actually, I'm quite faithful to the book. I basically went back to the book and made some alterations to contemporize it but it's in there. The book is very dense, but the trick is just kind of knowing what strands to follow. In fact, it wasn't all that difficult.
TEASER REEL
Seven Arts Entertainment, according to their press release on Yahoo, is going to screen a four-minutes long teaser reel at the American Film Market 2013 (starting on November 8th, which luckily coincides with the debut of Almost Human, a cyberpunkish TV series that seems to be quite the rehash of the series Total Recall 2070 that noone seems to remember.) Read the complete press release here.
At the upcoming American Film Market, the Company will introduce a four-minute teaser reel for its upcoming production "Neuromancer", created by the renowned previsualization house The Third Floor, Inc. ("Third Floor").
CEO Kate Hoffman stated, "I am thrilled that Seven Arts' association with Tony Lytle has got off to such a great start and have every confidence in continued success going forward. We are also very excited by the Third Floor previsualization which we believe will progress the production of our film based on the legendary science fiction novel "Neuromancer"."
All in all, ladies and gents, this November seems to fulfill quite a promise – hold on to your neon coffeemugs and retinas until the blast.
If you're interested about more intel about the movie adaptation of the seminal cyberpunk novel, check out these links, also brought to you by planetdamage.com: