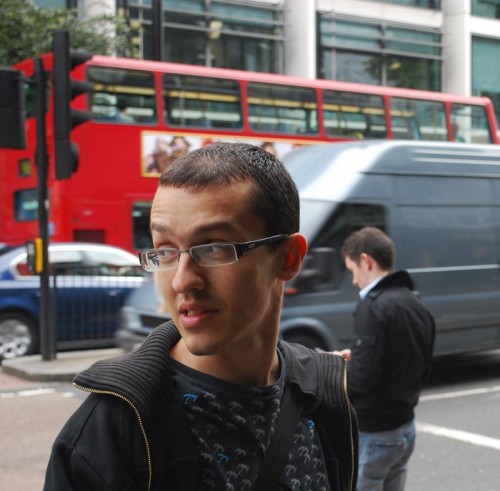 Six months passed since the last retrospective post and I'm doing my best to avoid the red alert heatwaves of Hungarian summer in innumerable kinds of shadows both in- and outside the country borders – sort of an ideal time to claw up the brief list of 2012 so far. Includes Scoville attacks, more coffee, more pictures and lots about… frequencies.

My debut book, THE DAMAGE REPORT is finally in bookstores! As for work, 2011 was mostly about finishing my debut 400-page gonzo brainwasher on cyberpunk, future tech, social media and pop culture. I had the luck of ending up working with two long-time friends: @dawe_ got to be the copy editor and @_moire the cover designer, both of them delivering jobs FULL OF ROCK (here's a post on Dawe's playlist and another one on how we worked on the cover with Vera Moiré, both of them in Hungarian with lots of self-explaining details that can appeal to you non-Hungarian speakers as well). There is also a crowdfunding video tapestry idea attached to the book that you can read more about at Silicon Republic and on the blog of KarmaMedia, the agency I've worked with closely before the release. (Book released by Mangafan.)

Skyrim? One of the main reasons why this book didn't get wrapped up earlier!

First sight on launch day, April 14th…

…and a slightly better one from the kultblog.hu guys with the extra layer of Papa Legba's veve on top.

My first book signing ever on launch day at MondoCon 2012 Spring – shot by Attila Nemeth.

Slightly before and in mid-presentation at Virus Klub, Budapest's latest brainbooster event

Got quite a few image tags as well: one of my favourites is the one Kitti Borissza sent me about Damage Report in stores (first book in national distribution, can hardly control my muhaha)…

..and the other one was sent by one of my main sources of inspiration, Zoog von Rock of Angelspit.

Got to work with a number of musicians and DJ's: I sent them parts of The Damage Report and they replied with mixes or completely exclusive tracks! Check out the complete list here (together with the list of interviews and press mentions) – giving you two of the more intense embeds below by United Gods and First Aid 4 Souls.

Okay, what happened when I didn't write? I wrote some more! Grab Zoog's fanzine PLEASURE SPECIES #12 that includes my double spread of weird techno wizardry, works of En Tze, Luka Noir and more!

We parted ways with both Mondo (the J-cultural magazine I had been working for since 2008) and International Business School Hungary. Why? Why both? You'll have to wait for the second part of this year's diary to get the answer.
I knew I had to do something different after finishing the book – sticking to the same routes (either neural or professional) usually don't do any good. So I ended up experimenting with infographics – here are two longer posts on how I started hacking at graphic work – read part 1 and part 2 here!

Long-time readers probably know about my love for hot food – we've now unlocked the achievement of finding Budapest's most depraving and hands down hottest meal. If you're ROCKING OUT in Budapest, try Manga Cowboy's Kill Bill Hot Wings dish – eat all ten of them and get on their wonder wall. Strengthwise, it's somewhere between habanero and jolokia but putting the culinary dictionary aside, IT IS FUCKING HELLFIRE OUT OF SATAN'S HOLES. My buddy Razor actually ended up on their Hall of Fame. Guy on the right? A chemist who spent a lot of time telling me how much salt you need to add to the ground coffee to boil up a much more tastier cup! (And he was so goddamn right about it!)
Moreover, a list of awesome things to happen in the near future:
What's in the pipeline? Co-authoring two shorter e-books (both of them marketing-related), working on a second book (yes, it's fiction and yes, it'll be in English) and I have three other projects that can guarantee a LOT OF ROCK for all parties involved once we get greenlit.
A few weeks of ROCK in Europe. (Then, years more.)
Posting quite a number of pending posts, most of them reviews and a few experiments we had (or will be having) – culinary dangers involved!
Thanks to all of you who kept me young and alive. Now we can go break reality one more time.
Always,
The Damage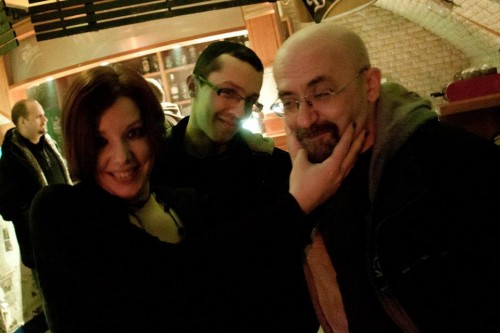 Brainhackers Inc. – amazing friend Bess to the left, amazing tribal shaman friend Gabor to the right.