2011.dmg
The compulsory closure blog post a.k.a. what happened in 2011? A whole lot of good stuff and you've read the public ones in the August diary post. Still, no word about Skyrim? And all the best music finds? (Because you don't read my monthly music rants in Mondo?) How is that even possible? Worry not. This is the time. Friends, fans, stalkers and haters – this was the year 2011!
Can't push this well enough: start with the August diary to sum stuff up from January till the end of July!

Earned the name Damage Von Rock from Zoog after assisting Angelspit during their Budapest gig and helping them through hardship and devilry! Meeting Valerie Gentile, Matt James and Amelia Arsenic was amazing and motivating – we've got a coproduction idea to show you in early 2012!
Which has nothing to do with my cyberpunk tourism mag The Dose (that would be your first bet which is so off the mark) – but I've made the Paris issue free to download near Xmas.
As for work, my debut gonzo non-fiction book manuscript is gaining more weight and form. I know I've promised to wrap it up this year BUT THIS IS A HYDRA. I'm at around 220 letter pages now (which actually means nothing, it's just to reflect a relative length to think about) and I'm really planning to finish this early January.
When I wasn't working on the book, I was busy writing for Mondo or doing a load of other freelance jobs like HVG's spec Extra issue on "the future" or two chapters in the Steve Jobs memorial book.
And one of the weirdest jobs I've done for Mondo (the J-culture magazine I've been affiliated with for years now) is testing Deus Ex: Human Revolution. In a factory plant. (Like a real cyberpunk boss, baby!)
Another autumn term of social & locative media, tech and future trends for finance/business studies BA students at International Business School Hungary! They might be a bit troubled and paranoid now when they look at their smartphones, but hey, noone said The Damage would make you feel safe.
Rocking out at my second Giger exhibition in Vienna! Although the 2011 showcase was concentrating on his movie contributions, there was a lot of earlier works – most notably connected to early influences, The Birth Machine and Li. Amazing. (And while I was at it, had to get to Aurin for Public Beta clothes. More neon bikewear!)
Managed to hack my brain, body and metabolism. Those of you being around me during the last months of the year, you've seen and experienced the proof. You can really recode the fabric and reach the medically improbable!
With the above mentioned greatness comes an equally great amount of trouble, hassle and shit, that's just how life is. I'd really love to thank my friends and everyone around me for coping with it and helping me whenever. You ROCK!
THE BEST MUSIC TO COME ACROSS IN 2011

Click here to get a dauntingly detailed playlist stat done with Last.fm Extra Stats
2011 was clearly a year of change in musical interest: out went hardstyle (although Budapest shuddered in dread when we went for zoneruns listening to Headhunterz's Hard With Style podcast) and back came deathrock/Goth/pop noir, space ambient and dark ambient/ritual music. And I managed to form a heartfelt devotion to Annie Mac's Friday night shows on BBC Radio 1. Clearly fell in love with the pop noir of The Good Natured, flirted with the likes of King Midas Sound and Shackleton, found out that the most interesting things this year were released on Tympanik Audio and most of the great music I've found I also channeled into the Razor Coated Candies video compilations.
The Good Natured – Wolves by The Good Natured
BEST NEW ALBUMS IN 2011
RANDOM STATISTICS TO MAKE YOU FEEL I TELL YOU IMPORTANT STUFF ABOUT MYSELF (BUT I DON'T)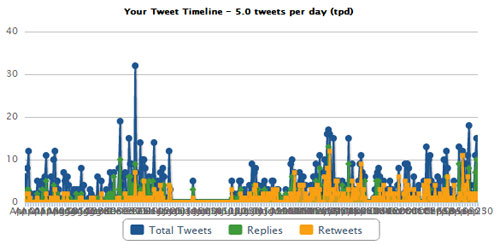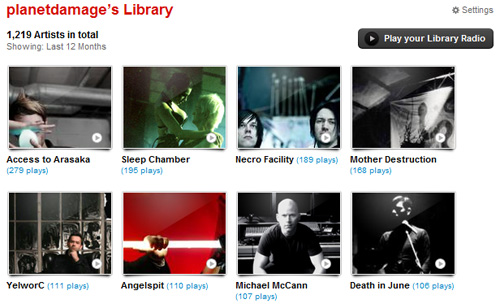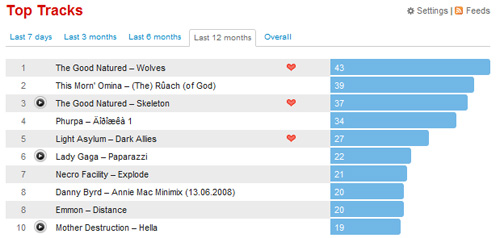 AND FINALLY…
I'd love to send out extra flying kudos and thankyous to my faithful blog readers who've sent me ideas and links and whatnot to keep this blog alive when attention was elsewhere: Dawe_, Honeymooncroon, Jenny Quantum, Kolosthemanwithoutfacebook, Riplakoidase, Tobal and Miss Toyclouds, the DAKINI OF ROCK.
I'm wishing you all a Happy New Year and whatnot. There will be great and amazing things (all of them black and neon and having wheels!) happening in 2012. And I will be responsible for quite a lot of them.
Always,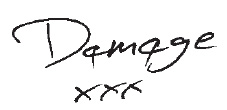 P.S.: