End-of-the-year proto-buzzfeed OCD-ridden content summary full of music, games and recommendation bits, hello! If you are new here, I am Damage and this is what I mostly do. Sometimes those get really cyberpunk, sometimes just flat-out weird. You will now get a bit of a glimpse into the past twelve months. Enjoy, share and subscribe! (Also, mental note: lots of good moments are left out because there was just no photos made. Or it turned out that my photo skills are total shit to begin with. Or, you know, lost in time like tears in rain.)
PRODUCTION SUMMARY
Pretty busy year, 2018! Kickstarted the engine with the EP Stray Signal (February 1st, mixed and mastered by Martin Bowes of Attrition, artwork and design by Péter Sántha aka @cptamorf) that was quickly followed by the music video for Vex a few weeks later (March 9th) – that one was done by Richárd Besenczi whose name you will totally hear more in the future.
The material for the new EP that I planned to release this year was pulled together by mid-December so I thought it was best to keep it out of the holiday noise-and-frenzy – so you will have some new stuff to be happy about in January! Those songs that will appear on the new EP Hi Rez Lo Life you might have heard in August (albeit in different versions) if you attended my gig at the Fekete Zaj festival!
Remixing was a prominent thing this year – I reworked songs for New Project, Angelspit, The Mercy Cage, Zsiga Bernathy and Ion Pulse, often turning tracks into more ambientish territory. (Or not, in which case there was more psyness involved.) There were two other collaborations this year that have not yielded fruits yet but I cannot talk about those – although First Aid 4 Souls did reveal a collaboration down the line in an interview for Peek-A-Boo, so that is not that much of a secret now. I made trailer music for the Hungarian fashiontech tech hub 878 Collective, all three of which are available here. That aside, you can find me on a few 2018 compilations as well: Intravenous Magazine's Blood Pack 5, the Two Gods-related Cage 25, Industrial Landscapes (which is a cross-section of Hungarian industrial and experimental bands) and Black Pill Red Pill's 2019 compilation.
So what about 2019?
January 11th brings you my new four-track EP Hi Rez Lo Life (with Krisztián Árvai of Black Nail Cabaret behind the helm on production, mixing and mastering and Richárd Besenczi on artwork, design and video works). After that, it is mostly album time, me getting lost in all the gears and apps and VSTs and gorgeous glitch sample packs that I gathered this year. Maybe more blog posts!
JANUARY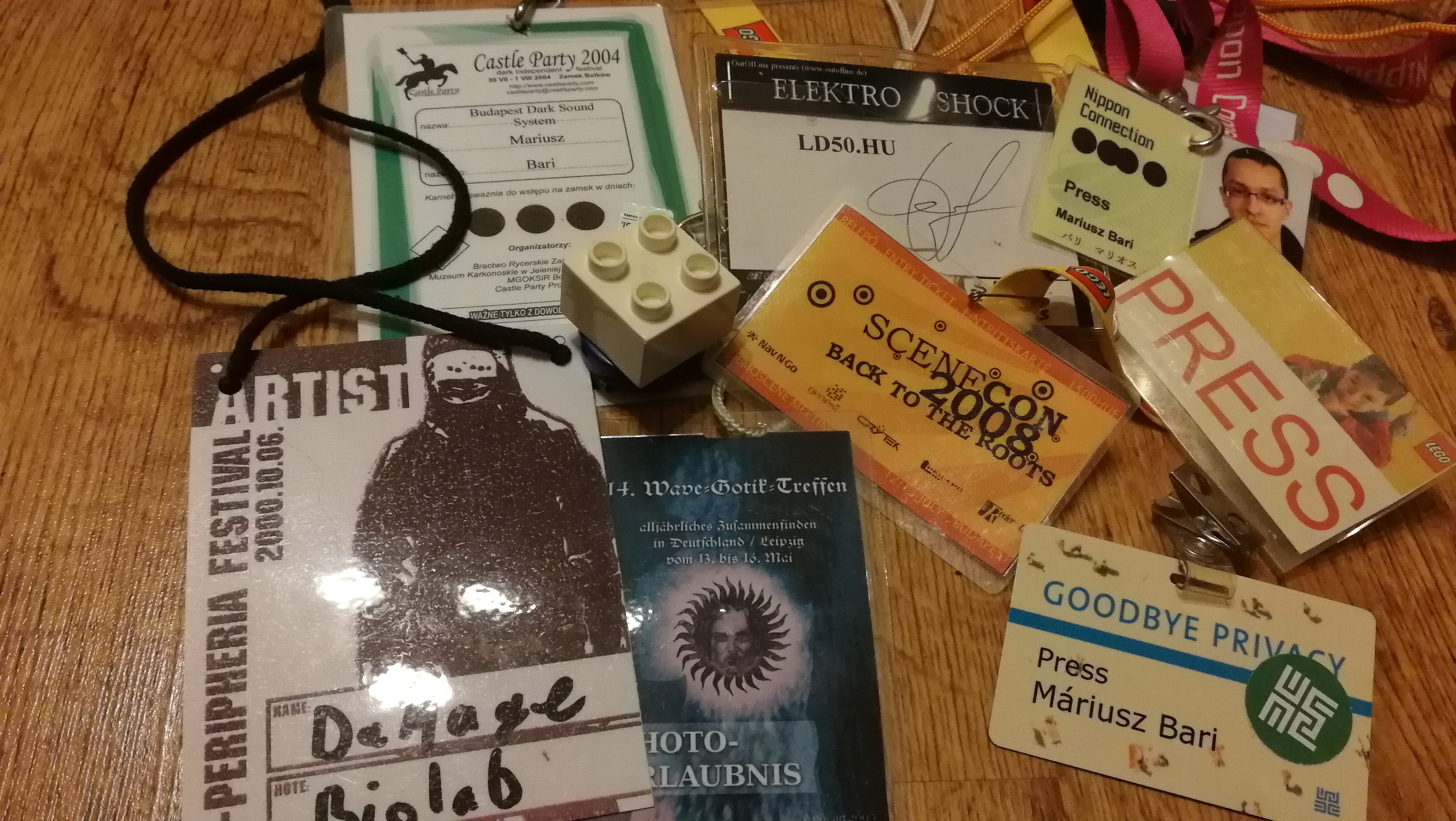 Each and every beginning of a year is chock full of summaries, reminiscences and cleaning-up-the-flats and digging-up-all-the-shits and this is one of the most comprehensive photos from January, me finding all the passes I gathered in a drawer. This includes passes from Castle Party 2004 and the 14th Wave Gotik Treffen, but the most memorable is the artist pass from 2000 when we performed first live as a techno/noise/whatever act under the pseudonym Samhain Biolab with my good friend @balazskassai. Good times!
FEBRUARY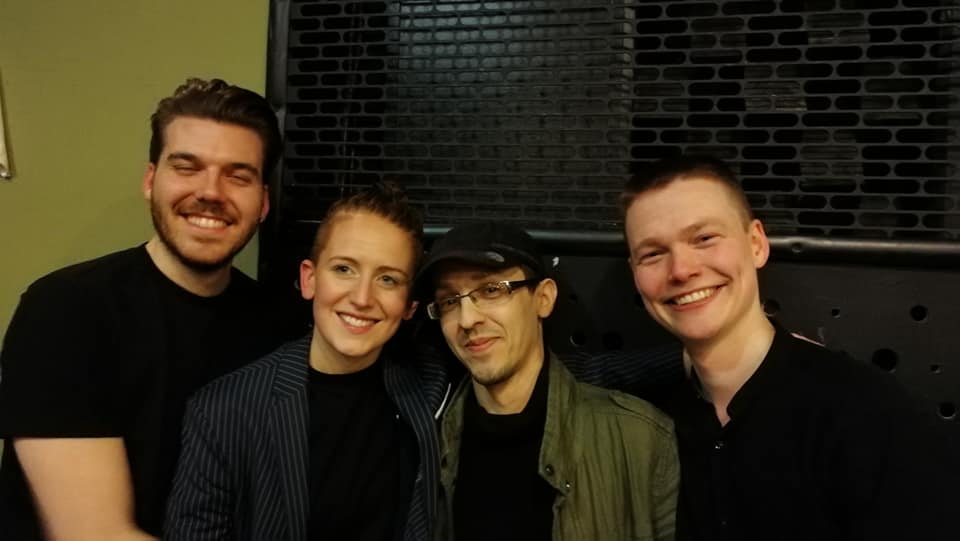 Best gig this year, fullstop. Icelandic dream pop band Vök got me from the first moment to the very last, up until the moment when after the gigi I went up to the merch stall and said "this is all my money in my wallet, give me stuff, because I want to support you as much as I can". AND I had the vinyls signed which is something I never ever do. AND the photo with the band which I really never ever do. So, if you don't know them yet, please give yourself some good proper time and check them out wherever you can. Here's also a list of other bands I saw this year, some of which ended up in grabbing vinyls, as I guess that is the type of merch that supports bands the most, but correct me if I am wrong, I'd be curious in knowing the proper numbers.
2018 bands:
Aesthetic Perfection, Batushka, Black Bartók, Black Nail Cabaret (3x), Box and the Twins, Boy Harsher, Cantara, Carbon Based Lifeforms, Carpenter Brut, Crippled Black Phoenix, De Facto, Geometric Vision, Gustave Tiger, Hante, Hide, Intimate Stranger, INVSN, ION, Jojo Mayer w/ Nerve, Kaelan Mikla, Lebanon Hanover, Lies of the Machine, Priest, Schammasch, Sextile, She Past Away, Sólveig Matthildur, Tape Delay, Vök, Youth Code, Zivatar (2x)
MARCH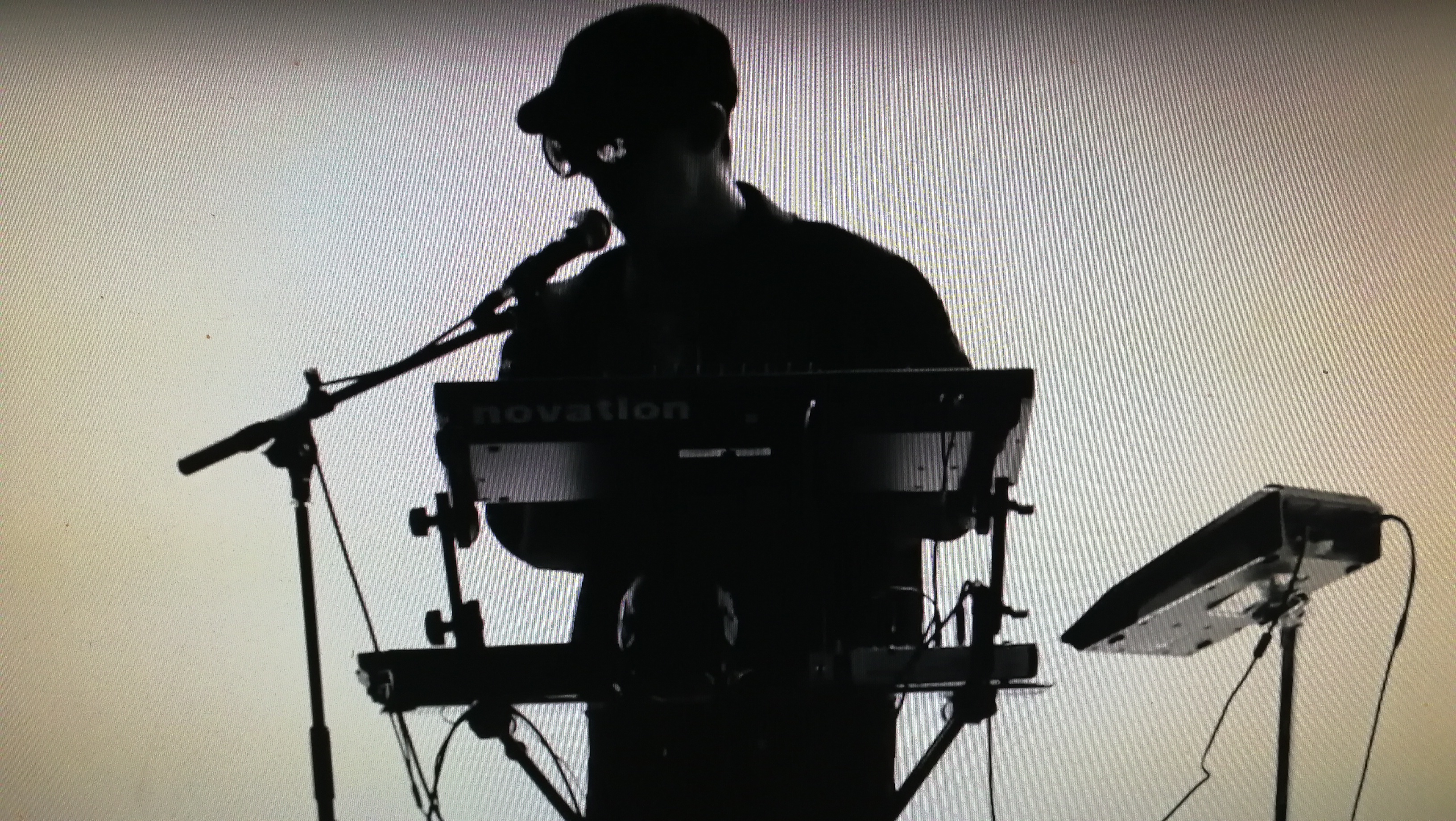 Music video time with Richard Besenczi! I just realized I haven't actually posted anything substantial about the VEX video behind-the-scenes, although we do have a lot of photos and glitches to share. Until I finally release that, let me boost out a hearty thank-you to Sinred for all his help, Bebek's Creations for the help with the skull and Dóra Mojzes for her amazing Y.LD attire!
APRIL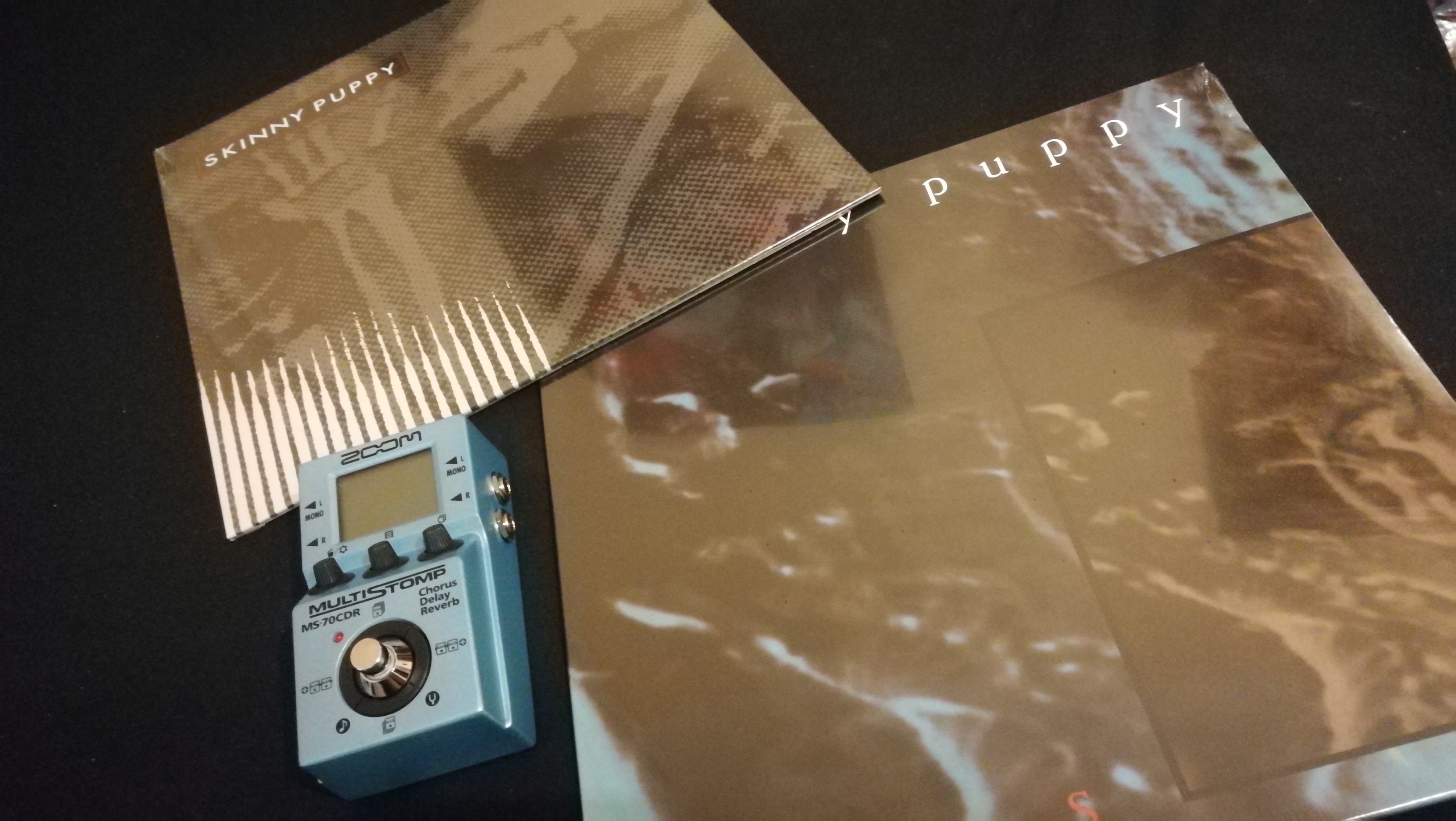 So I did say buying vinyls is a good thing, right? Still couldn't figure out how profitable of a merch vinyls are (it was only two pictures ago, apparently), but buying these SP vinyls really made my month – oldschool Skinny Puppy and Front Line Assembly materials (especially the Nerve War demo tapes!) are just the best atmospheric materials ever. Also, a Zoom multistomp that everybody said I should not buy so I bought it anyways and it fits amazingly well with vocals.
MAY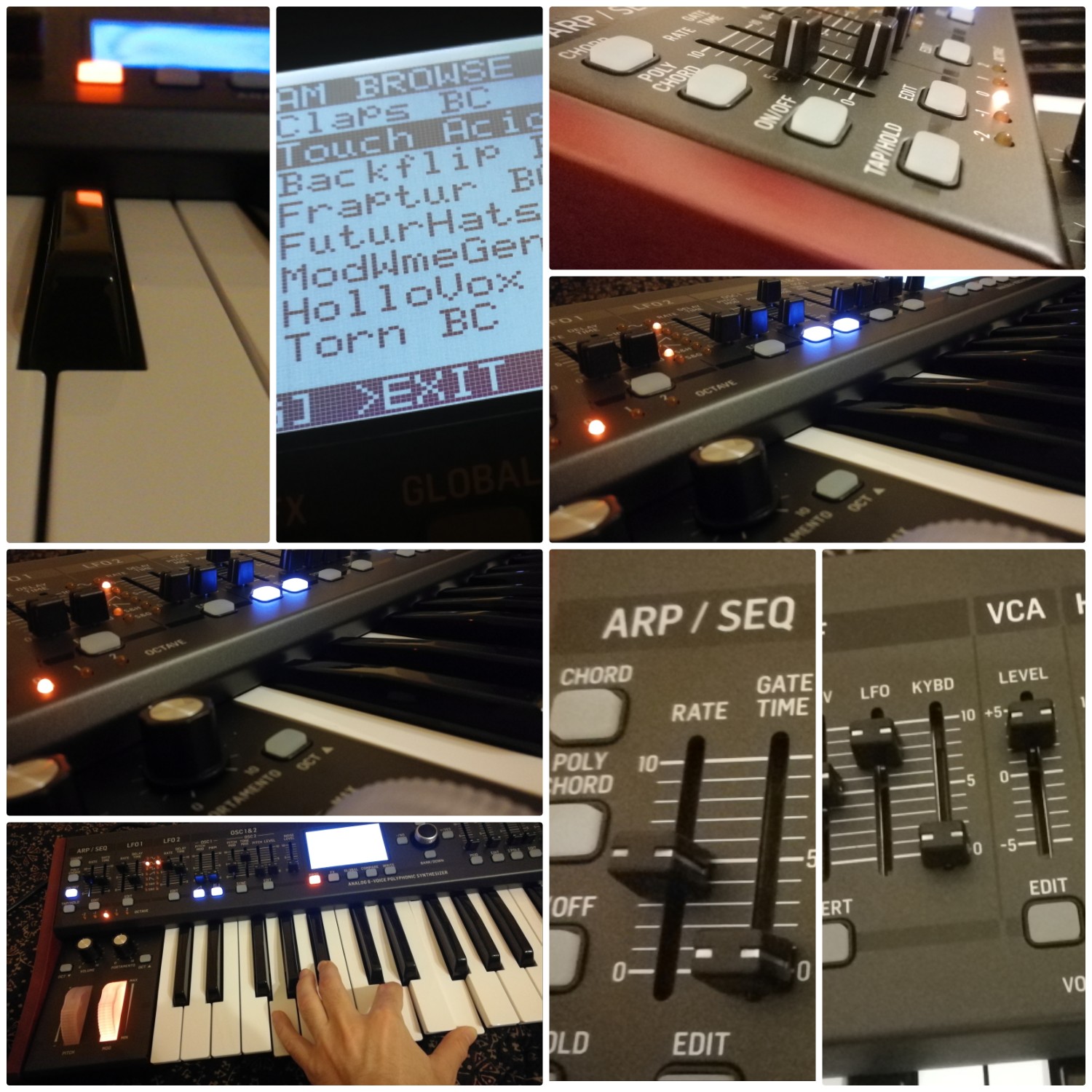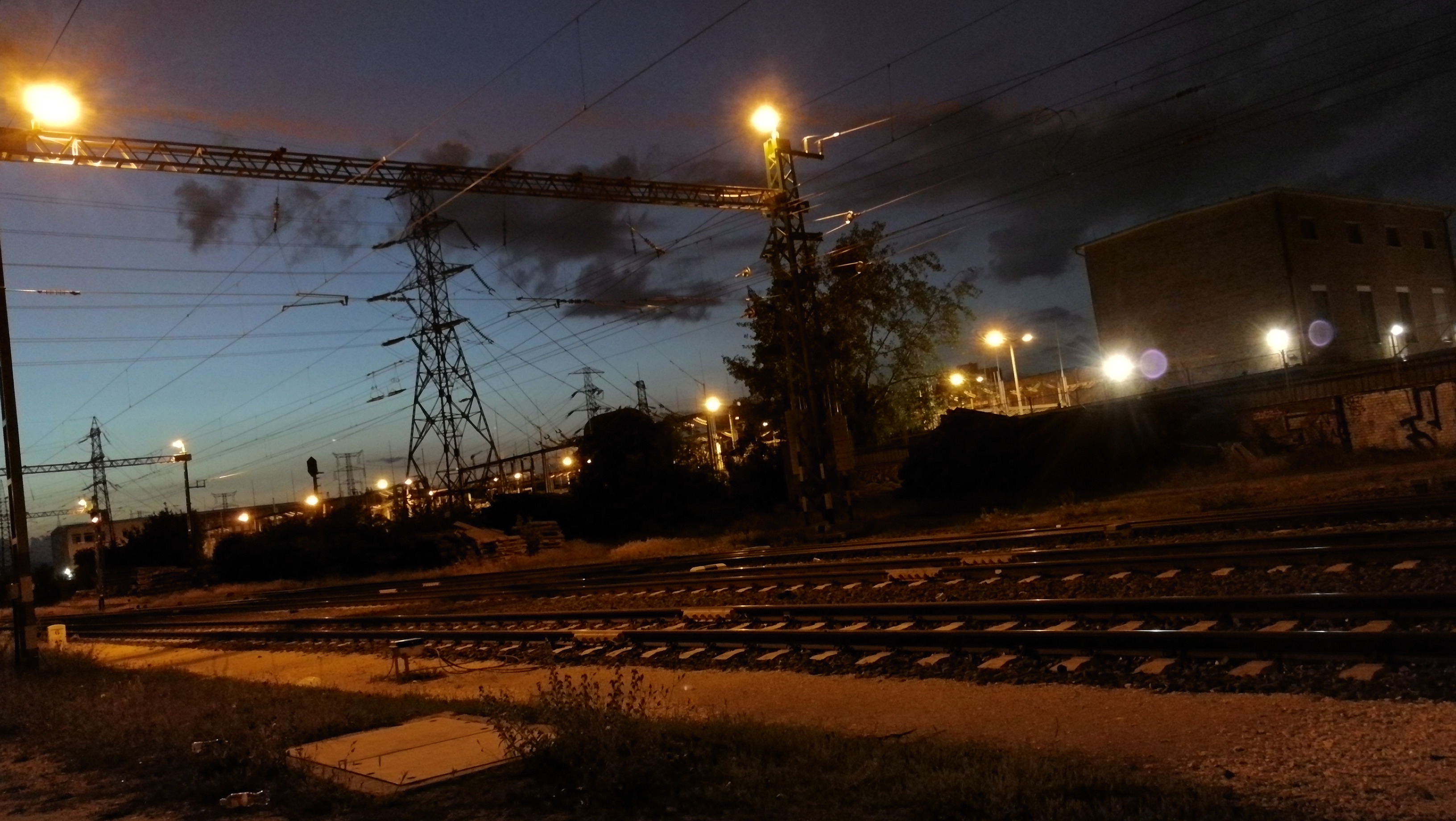 So I spent a long time researching synths before deciding to go with a Behringer Deepmind 6, even though there is a LOT of backlash against Behringer for re-working oldschool synths and there are quite a couple of bad reviews out on this gear (bad construction, bad keyboard, loud fans). Yeah, it is quite weird, having your own loud fans inside a synth but hey, I love the sound quality and all the sound design there is just a black hole in time. Best self-bought birthday present ever.
Also, biking photos, because finding an area in a city that is full of vistas like that is just amazing.
JUNE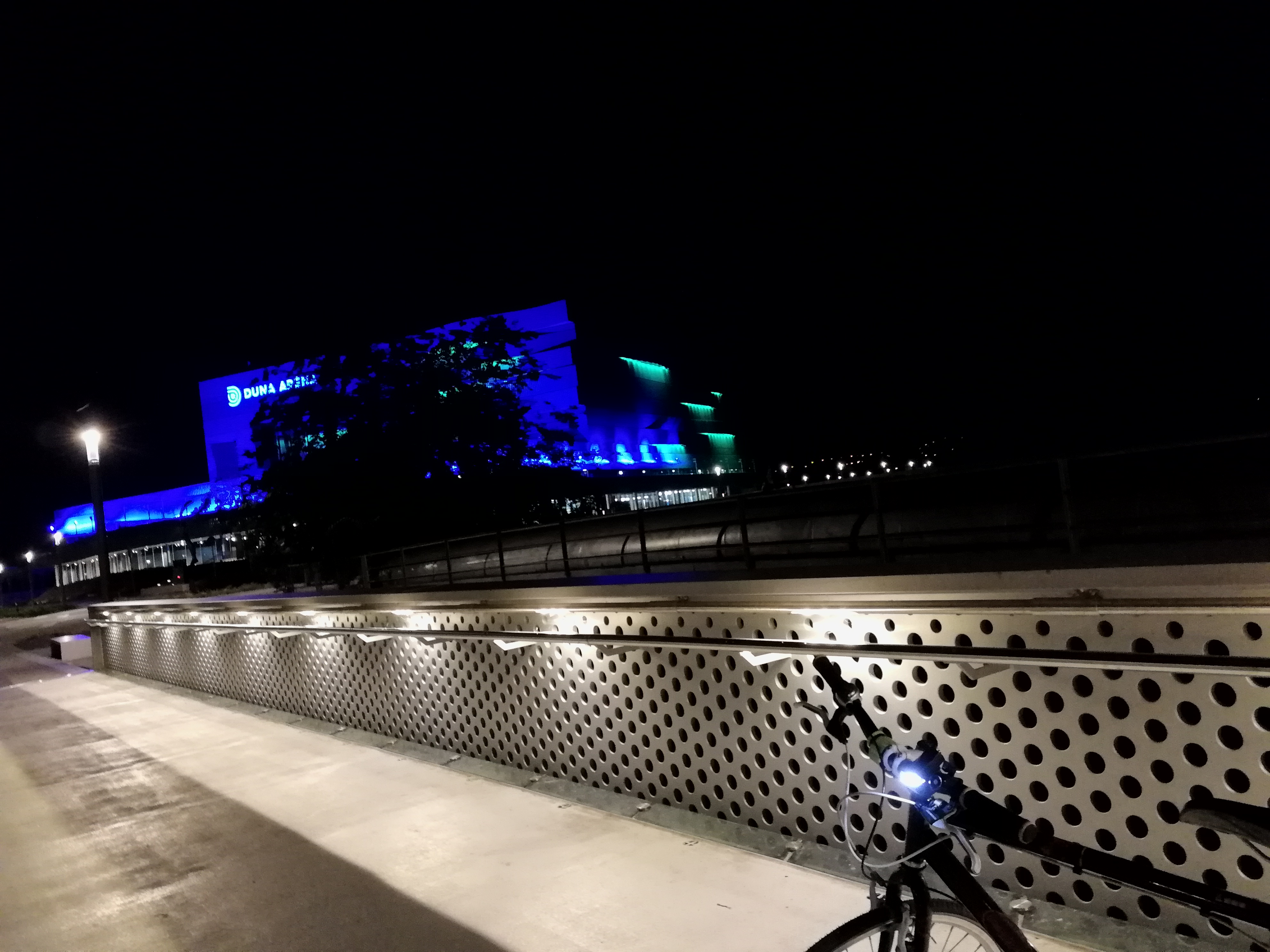 Also, more biking photos, because midnight biking is one of the best things to calm down a frenzied brain.
JULY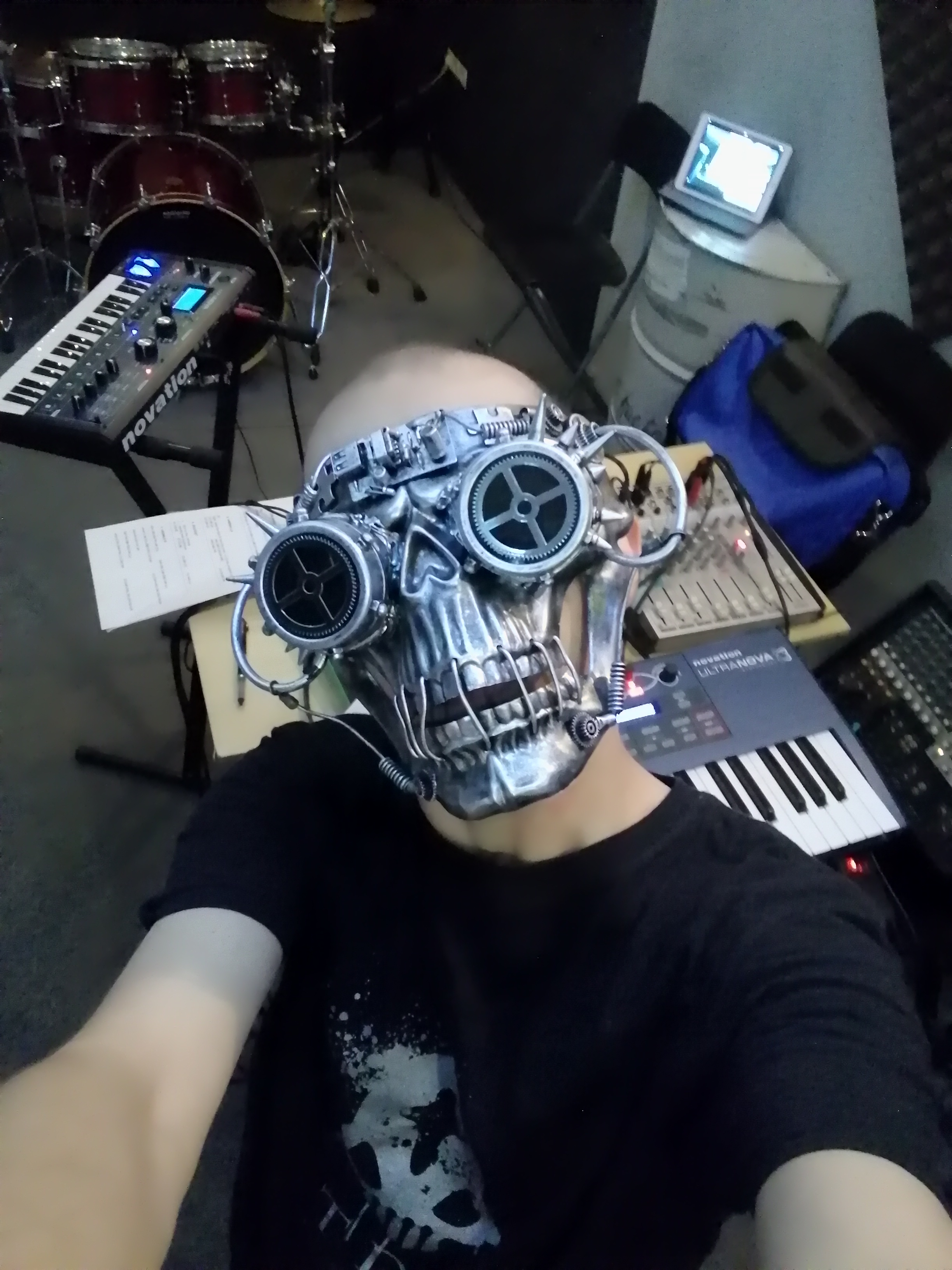 Lots of prep for the Fekete Zaj festival gig, massive thanks to the ArtistFactory rehearsal room complex where we spent a lot of time with Balint Janko of Clayfeet to practice stuff. Massiver thanks to @sheisannajulia for retrieving this proto-mechano-cybermonkey mask of ROCK out of the depths of hell!
AUGUST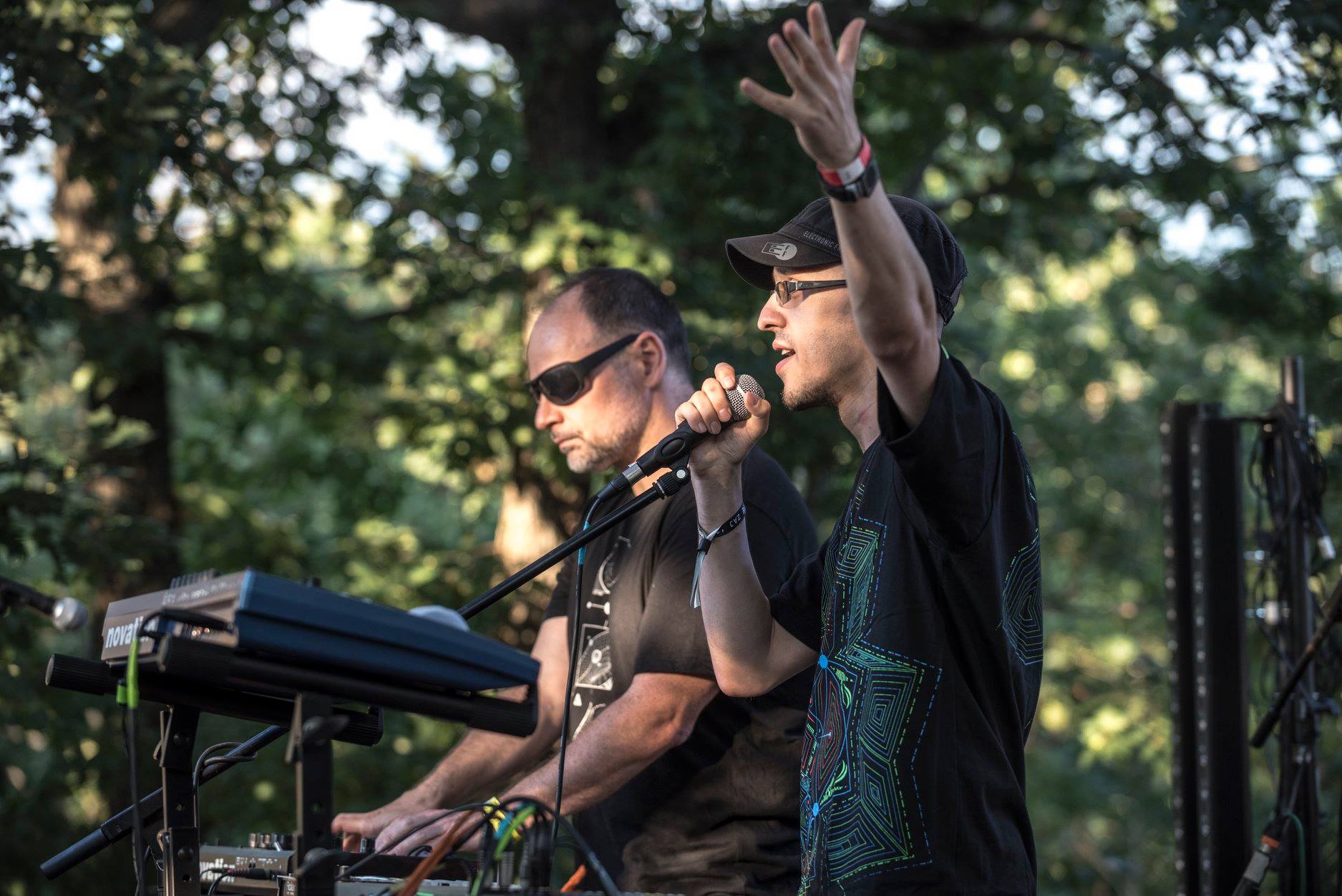 Live at the Fekete Zaj festival! Much better gig than the first one, so much more to do to land a better one! Thanks to all of you who came there to listen, to rock or both – mega thanks go to Dustrial and Public Beta Wear for the stage attire!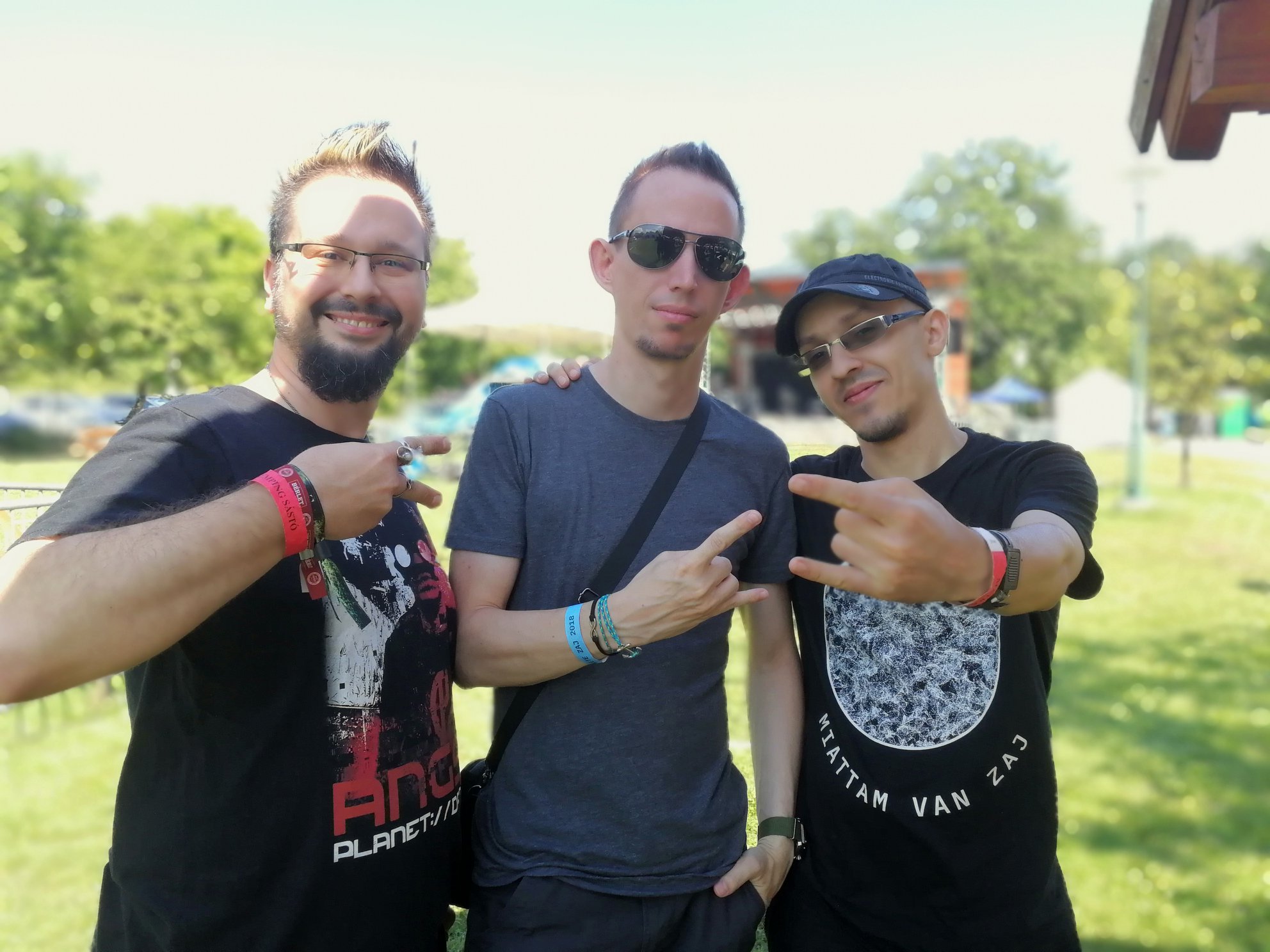 With @quazzartheone and @balazskassai in an aura which totally gives 0.4% life regen! (Path of Exile fans know what this means! Also, if I have to pick a game that was totally the best this year, I could not really pick between Path of Exile or Starbound (filled with mods) or Skyrim (very much filled with mods)!)
SEPTEMBER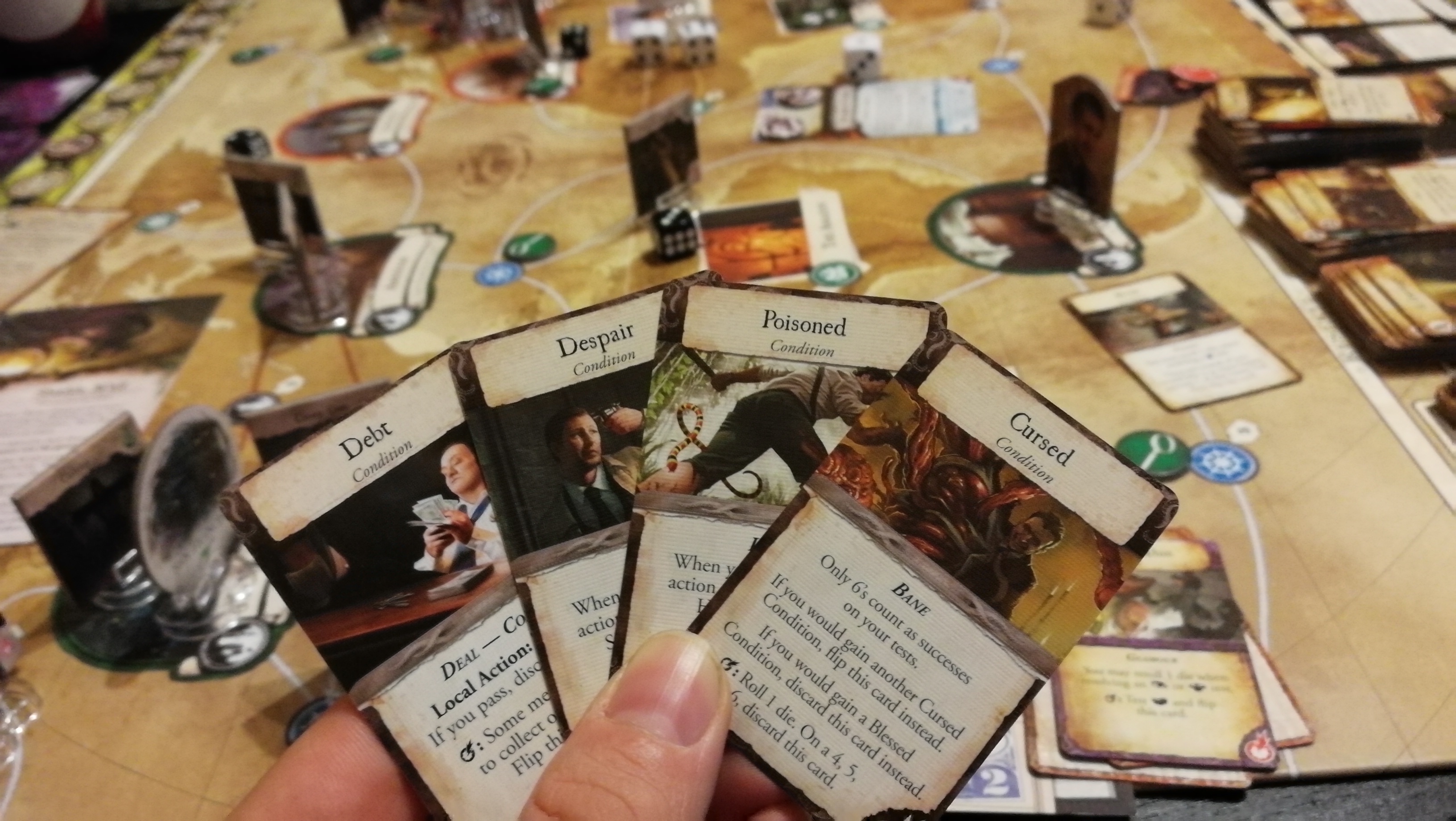 If I have to pick one superfavourite board game ever, it is still Eldritch Horror from Fantasy Flight Games. I have yet to find another Lovecraftian game that blends cosmic terror and archeologist popculture with mowing down alien beasts with magical tommyguns in alternate dimensions – which is probably why I picked up GameMaker Studio 2 to eventually come up with something like that on my own. (And yes, I know, best reaction to a Lovecraftian monster is to instantly die, go insane or flee and then go insane and not go akimbo with tommyguns, so this is really a cheesy way of approaching the Mythos, but hey.) If I have to pick some other tangible games that stuck with me this year (and I tried, bought and sold a lot of card and board games), those will be Nemesis and Star Realms – Nemesis being the closest thing to an Aliens boardgame (long hours of wading in corridors covered in slime, infested by facehuggers, trying to murder a full spacecraft full of your teammates and aliens that look like running knives on a lot of legs) and Star Realms is a short little filler game of space combat and a lot of luck.
OCTOBER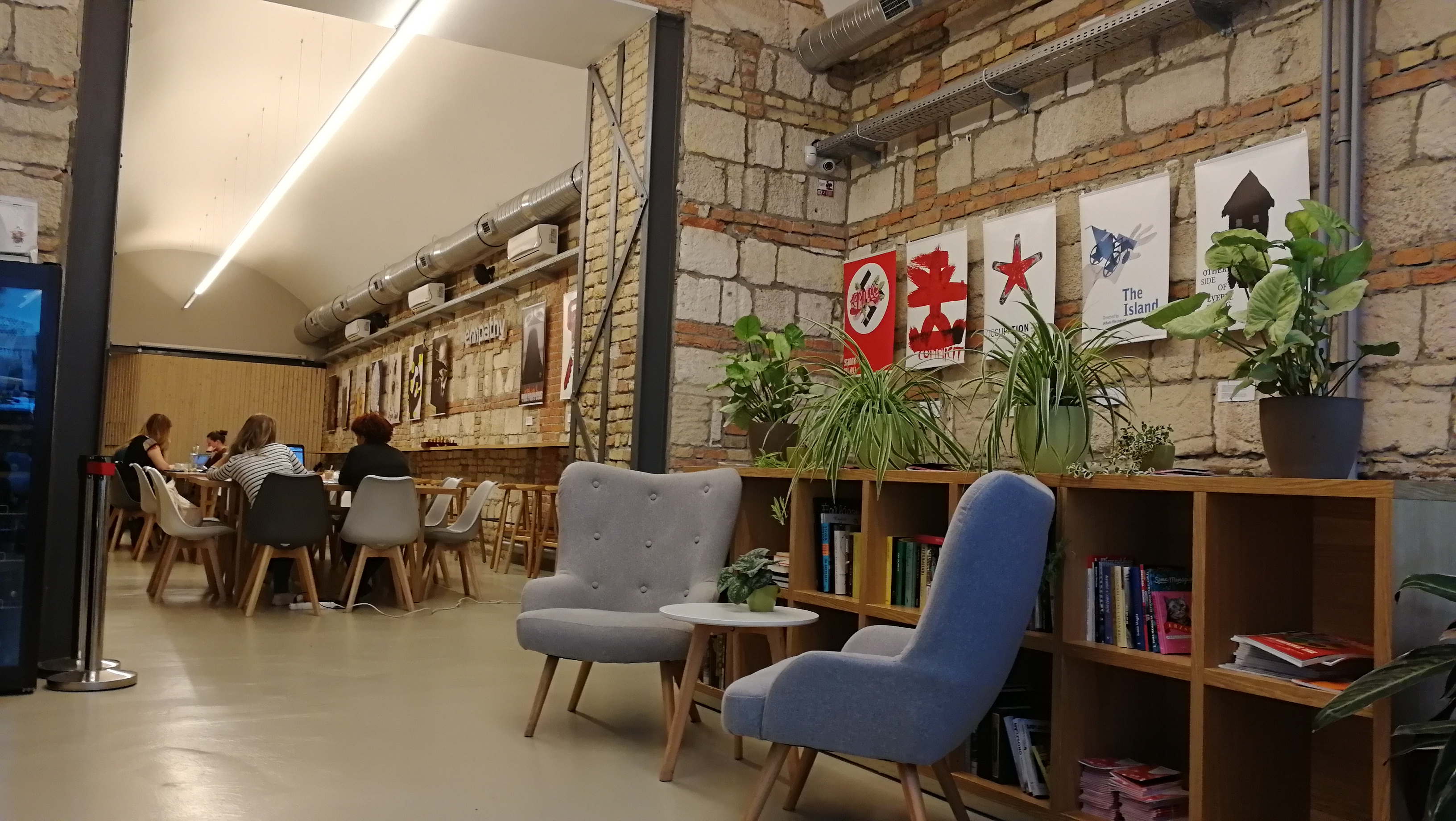 Coffee! Martin of Attrition said that he can sum up our conversations in two words: coffee and synths and boy, was he right about the order of those words as well. If you are rocking out in Budapest and you want some good places, I would definitely go for two places: one would be Barako on the Buda side and on the Pest side it would definitely be Empathy Cafe & Bistro (and if you go there, you also support the Hungarian Red Cross, so you do double-good!). Go grab a cupful there, I mean, now.
NOVEMBER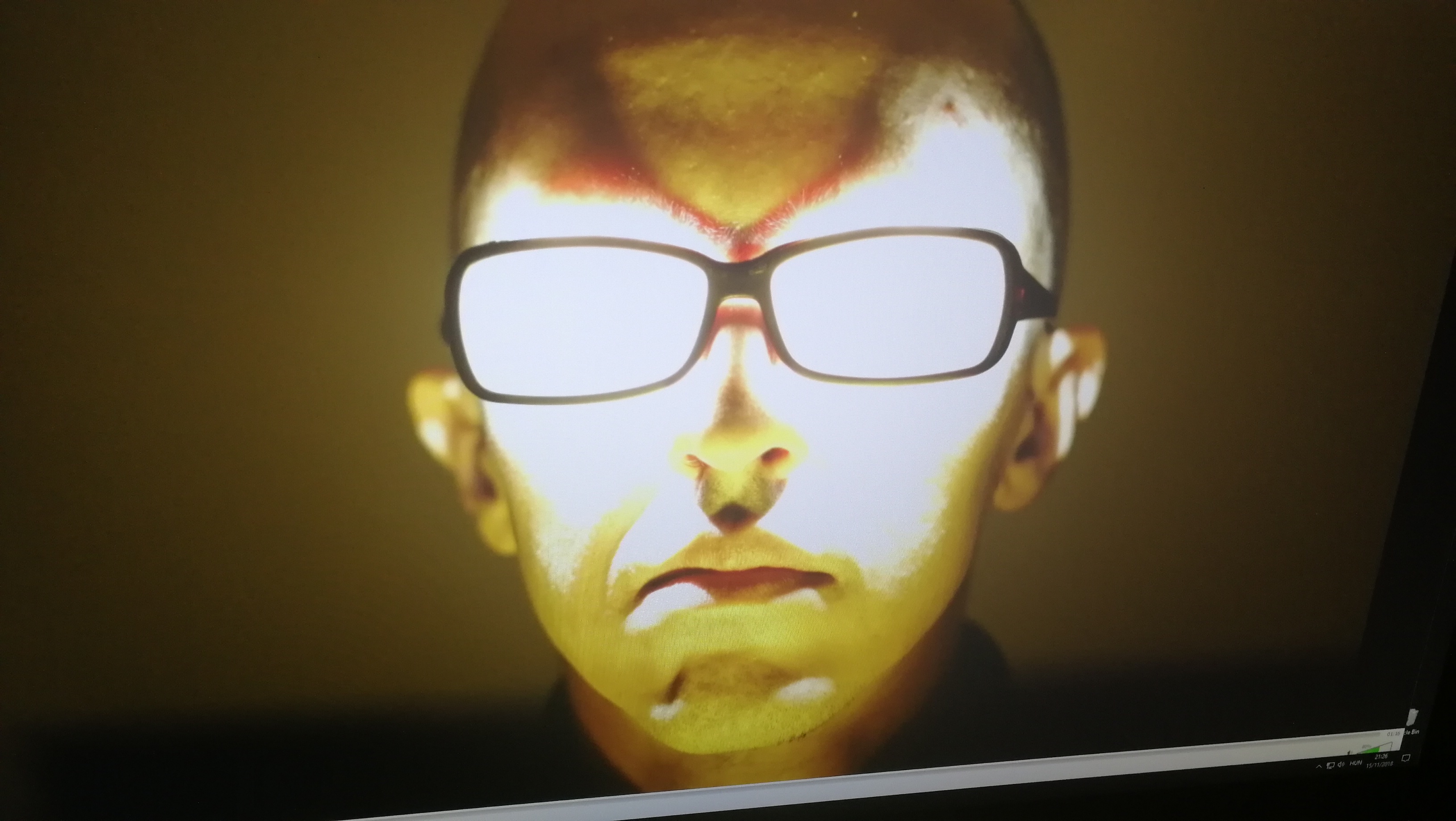 Working on the new music video Hi Rez Lo Life – there is a bucketload of behind-the-scenes materials on this one as well, so you will have a lot of stories about this one as well. This is probably a shot that will not get into the final video but I had to cap it – the resemblance to The Last Airbender is eerie! (Or, if you want to be more cyberpunk, The Last IRbender.)
DECEMBER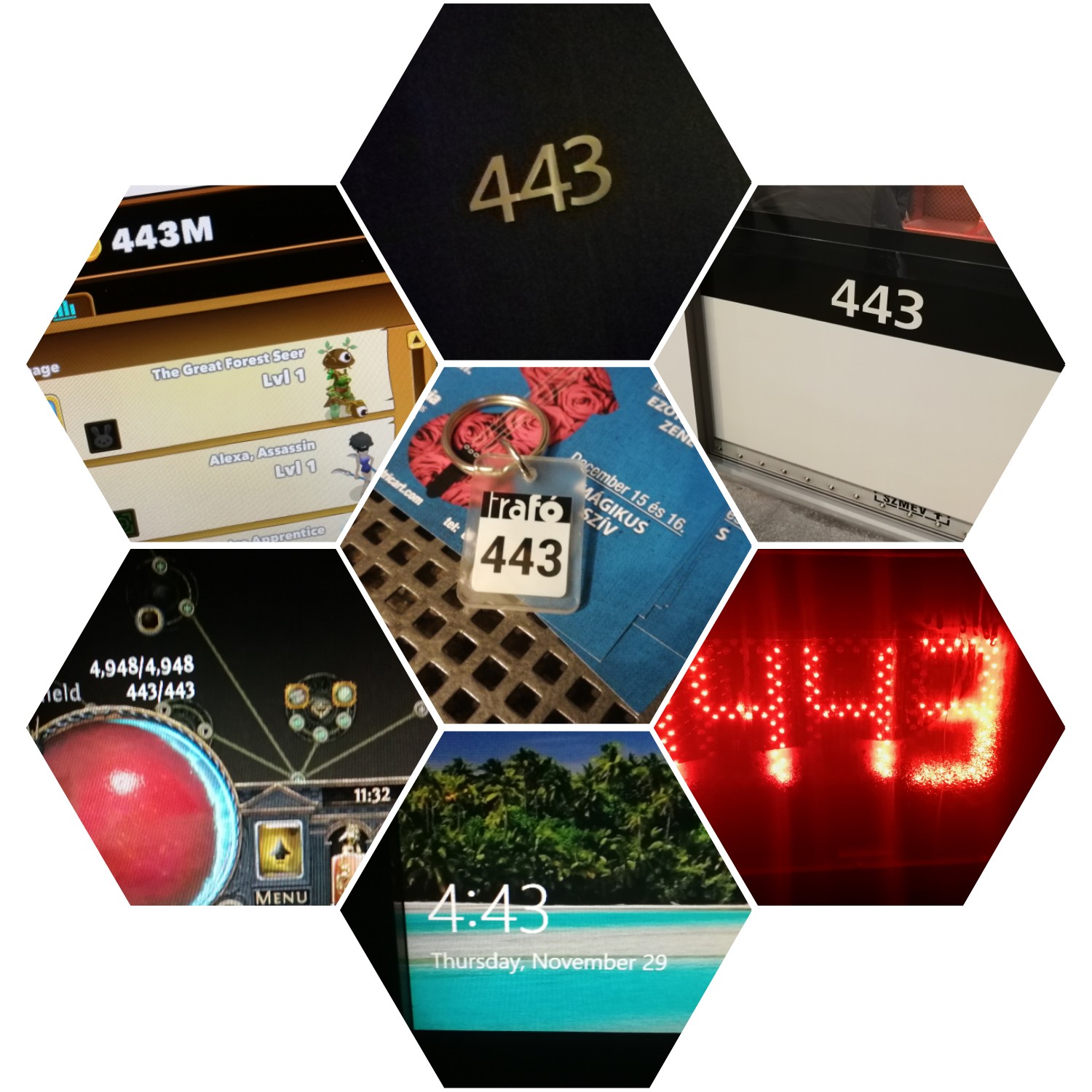 A collection of 443's from all over: from a hotel with a bug problem and a soggy bacon problem, from an underground railway station, from an inexplicably neon-lit swimming pool complex, a laptop, a Path of Exile session, a Clicker Heroes session (sorry, I am a sucker for idle clickers) and a Trafó clothes room token.
Thanks for watching, hit like, share, subscribe and behave like you haven't noticed the glitch here. Take good care, build as much of a FOUNDATION OF GREAT ROCK as you can and see you next year! If you have anything to add, scream, shout, whisper or stab, do so in the comments or on any social media platform where I will be watching, as I usually never sleep. *spooky silence intensifies*