Held the tight-lip policy as long as I could about the live-action adaptation of GHOST IN THE SHELL – up until today, the Tokyo debut of the movie's first trailer, promptly followed by its international release. Kept myself tight-lipped for a good reason: however much of a cyberpunk I am (that extent is really pointless now),  I don't understand and I definitely don't support the fans' public outcry. So first let me just quickly share with you my train-of-thought reactions on the not-so-fresh trailer – had to give myself almost a day to let it all sink in. I'll also rant why you should take five and not whine too much about the 2017 movie.
TRAIN OF THOUGHT ABOUT THE GHOST IN THE SHELL TRAILER
Love the glitch behind the ScarJo foreword..need to colorpick that lipstick as well, looks hue-on.. visually striking, that's obvious, we've seen that in the five short teasers.. robotic geishas have the air of cognitive dissonance and ambivalence around them, love that a lot.. city shot well, spectrum's very similar to the opening of the 1995 movie, headgear as well, hope they won't add that cliché-ridden falling-from-the-rooftop-thing.. MICHAEL WINCOTT! The Crow's one of my favourite movies, partly because of Wincott and Alien 4 is damn good a flic as long as he's alive.. expanded spider-geisha reminds me of the opening scene of GITS2, are the producers fishing out the memorable bits?.. Major's doing her regular rooftop gravity romp thing, so that was a rhetorical question.. every fucking piece of GITS work has that in it, after 21 years, I'd really love to see a different method of traveling down a few (dozen) floors.. visuals are still damn amazing.. yeah, second shot after breaking the glass comes damn late, augmented perps would have already double-tapped her.. HANKA.. so that's really The Laughing Man storyline.. right at the one-minute stop Motoko smiles, sexy for ScarJo (WHAT ISN'T SEXY FOR HER GODDAMNIT) but very much out of character for the Major.. Kowloon-like city shots are damn amazing, I wonder if there's going to be a scene where they have to go fight through streets that are so narrow that you can only walk sideways, one person at a time, would go so well with the Kowloon theme.. although the wake-up scene from the first movie seems weird, the view from the window is out of perspective, only possible explanation: she doesn't have a window, only a screen instead of that.. more feelings on Motoko's face that's out of character (and also, works well with Japanese theatrics that often has feelings played inside instead of theatrically posted outside).. connected to something I'm not sounds bland and vague compared to the source material's take on philosophy, so thanks Hollywood and dumbed down teenagers, thanks a lot.. Motoko's lesbian take was even censored in the newer North-American VIZ editions (3 pages, if I remember well), so I'm glad the reference is in there somewhere, what if they'd actually have the virtual lesbian threesome on the boat?.. also, what if you'd have fifteen extra minutes of proper philosophical discussion and references on the DVD that's not shown to the masses because they wouldn't properly understand it all anyways?.. fuck my face, that's actually a slowed-down cover of Depeche Mode's "Enjoy the Silence"? great idea to use a song like that for an international re-interpretation of a Japanese franchise but maybe a song with a more gritty, analogue feel would have added a lot more feel and atmosphere than this version.. we saved you and now you say others, why do you have to put sentences in bold and evident, this is Operation Cockblock aimed out our scene.. Motoko looks out of scene when she pops up in that retake from the first movie.. never been in that big urban jungle before, though, so I wouldn't be able to say if this is fully unreal.. oh give Jess Hall a fucking Oscar for these visuals now, would you?.. did they take Batou's eye implants from Poundland, a 100 yen shop or fucking IKEA? this looks horrifyingly cheap.. okay, Aramaki only had a gun once in the Stand Alone Complex series, he's not a shooter guy, this is a huge deviation even if Beat Takeshi has an itchy triggerfinger, what is this.. more cheap Batou eyes.. I don't know who to trust, Motoko is never this vulnerable in the series or the movies, not ever, not even when she's got an arm ripped off from her body.. Batou without eye implants? does he have a promotional can of Pringles for a cock?… Motoko now goes on a spree to face her past?.. geisha with the expanding face, great reference to the opening scene of the second movie.. okay, is it Kuze in the final scene where he says everything Motoko's been given was a lie? Probably Kuze.. also, that group of wired Buddhist monks is totally a blast, very powerful image.
So, that was two minutes and twenty-six seconds in my head. Thanks for being there. Now dress up and leave.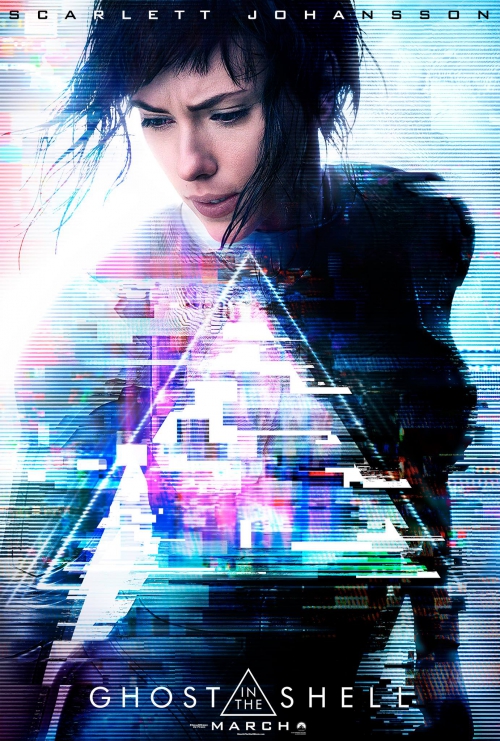 AND A BIT OF A RANT WITHOUT ENOUGH COFFEE
My take on the whole issue. (I deleted three paragraphs mostly ditching Arad and the unisex use of the expression "cunt talk". Look grateful.) Ghost in the Shell is a Japanese story by a Japanese author about Japanese intelligence agency personnel living in a post-WWIII Japanese world. The GITS manga has a whole lot more tech, pol and tradecraft talk than the anime – this makes it very tight, iconic, cult-like, and also, hard to embrace for anyone who is not into this stuff. Nude geishas shooting everything that moves and then everything that does not? Super accessible. Introversion about artificial personality layering and its impact on a Maslow pyramid? Not accessible at all to most people. There, that's the Ghost In The Shell reinterpretation pitch for you. If Hollywood's doing a version, it's 1) for international waters and it's 2) for money. If you don't like it, go indie, go for the source material or make your own brainwarping cyberpunk/biopunk series on Kickstarter.
But use your brains first. Anyone who's not Japanese and tries to adapt GITS in any shape or form to the screen without thoroughly revisiting its core is prone to a fuckload of errors. (The source material is 100% rooted in Japanese culture, philosophy, technology, psychology – gaijin bastards can't even read the kanas properly and we haven't started talking about the cultural gaps and the highly different take of things in Western and Eastern cultures.) Japanese cyberpunk is miles away from its Western hemisphere counterpart and you know what, I'm actually thankful that the Hollywood industry didn't pick Tetsuo Body Hammer for a rework. (I mean, look at Westworld – given how many reviews I read about how hard-to-grasp it is, I'd be glad to link voting rights to the capability of a proper debate about AI transitioning. Behave like it's 2016.) But this is a rant and the bottom line is: don't expect too much authentic mindwarping cyberpunk stuff from anyone on top. It never worked that way. (And if you wanted proper authentic Japanese Ghost in The Shell, watch the original movie and Innocence once again. They're cultic for a reason, an anchor in time. Want an international or European interpretation? Go watch Avalon. Anything from the 2nd GIG onwards has lost a lot of its original density and coolness, so injecting new blood might not be a bad idea. Sure it won't be smarter but I'm also sure it won't be worse than the IP releases from the last few years.)
On the other hand, look at what's on the shelves now – we're having Blade Runner 2 and Ghost in The Shell on the big screen in 2017. Both promising to be "that one movie of the decade" that has a glorious all-encompassing cast that sort of serves as a carte postale of that era – Johnny Mnemonic, Repo Man: The Genetic Opera, maybe even The Matrix has a postal card on the cyberpunk shelves. It's high time we got one such movie for the 2010s.
Just please change Batou's optics. They look cheaper than anything the Garbage Pail Kids tried to fuck in that dumpster yesterday. And also: when referring to how cyberpunk ScarJo is, just please stop referring to Her. Lucy is a great reference film but as for Her, it's damn voice acting. Get your concepts straight for once.
Yes, I stopped ranting. A bathtub full of coffee ready to inject in this great hate-spewing temple of mine. That can't wait now, can it.