TL;DR Angelspit finally made a club stomper album. Weird chord progressions, but very stompable, lyrics are golden Angelspit quality, very solid. Great musical surprises. Buy this baby now.
It's quite the turn on-tune in-cop out experience to follow the industrial riot PA Angelspit, three steps behind, ears open. I got to know Zoog around the project's early 'Nurse Grenade' era and quickly endorsed how Angelspit always shared their method, workflow and creative processes to help the upcoming generation through that Desert of Anything But Not Just That One Thing. The blipverts and production diaries were a great insight into how an industrial musician works, and trust me, creativity aside, tips and tricks are always handy when it comes to studio time after working from 9 to 5.
So, as you can guess, I was sort of enthralled to hear Zoog tell me during one of our as-rare-as-cherished coffee-fueled conversations that he's working on the most dancey Angelspit album so far. And, as files for CULT OF FAKE trickled in, I have to ensure you all, ladies and gents, he's right. And as it happens, he's right in the most twisted sense of the word. As always.
And mind you, Cult of Fake is still a 100% Angelspit release. It is ear- and watermarked with Doepfers and EMUs and a whole wall full of modulars, it's still fueled by the anger and the frustration felt over how corporate agendas thwart the lives of The Few, the lyrics are still constructed meticulously and are still peppered with rhymes just enough to be able to roar them out loud as you're drunk (which is the best proof of your lyrics being solid), Zoog's vocals are recognizable as always and if it's guitar, it's obviously George Bikos, who else?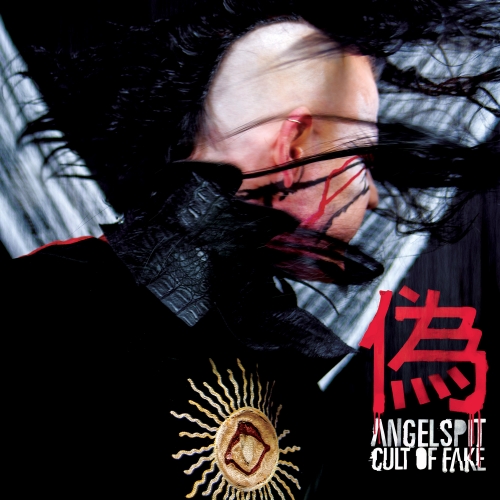 And thankfully, as far as progression goes, this is a very different album from The Product or Blood Death Ivory or anything before. It is a club stomper and in terms of rhythmics, it's evened out – a steady 4/4 material overall and each track is worthy of a few remixes. On The List (She's Not) is clearly in the top league – this is something pretty much in the vein of The Presets by way of Tankt and 90's club tracks and lush female vocals, yet, unmistakeably Angelspit. Thanks For Your Cooperation opens the album with such a Skinny Puppy-esque diorama of weirdery that you'll have to check your ID tags twice. Breath is the weird club hit that could instantly land in the TOP40 if its chord progression wasn't turned upside down, flooded with diminished minors (which is just the name of my very sad industrial cover band, hands off!) My Little Blade sounds just like it escaped from a Hardcore Pong album with its crunchy 8-bit feel. And this is just four track out of the 12 – all of them being weirdly characteristic, yet equally bouncy and decent club material for your favourite bunker near you. Note: you might say that Cult of Fake actually sounds a wee bit like earlier albums like Krankhaus or Blood Death Ivory and you'll be right to a certain degree, as Zoog re-used some of the percussive elements from the early days. Nothing like a good clang re-clanged!
Cult of Fake is out today, 6/6/2016, on Negative Gain. Look grateful.