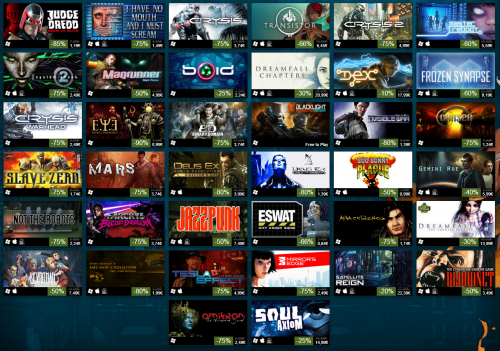 72 hours to go before finally succumbing to a Steam sale as you do, you always do. So do I. Steam now offers 38 cyberpunk…ish games cheaper, some at hilariously great prices and some of them just bring tears of joy to my eyes.
BLOODNET, for example, was and still is, my favourite retro adventure/RPG. It's basically a vampire story set in a cyberpunk North-Am setting, set against the ticking clock. In 2015 its visuals are definitely nowhere near today's expectations but what it lacks in looks, it definitely delivers in plot, characters and all the little details that colour the world alive. Varied characters with tons of motivations, attitude, style.. very, very different than today's adventure games. And of course, back in the 90s players had to figure out stuff for themselves and get used to dying A LOT.. something that today's players are not good at making friends with. If I had to pick only one, it would be Bloodnet – and now it's even cheaper than it usually is on GOG. (link)
On the other hand, a lot of my friends (and many reacting to the Steam sales news) were focused on two games: GEMINI RUE and E.Y.E. DIVINE CYBERMANCY: the former being a 2D adventure side-scroller, while the latter's a first-person shooter. I have to admit I didn't finish my Gemini Rue playthrough, because I got distracted a few hours into the plot and I definitely didn't get around to playing E.Y.E. which feels and looks a lot like a WH40K action stomper. Definitely recommending these two, as well! (GR link, E.Y.E. link)
But there's even more, so you can add games to your library such as MIRROR'S EDGE, the definitive cyberpunk parkour game that's extremely well-polished, plays well, has an upcoming sequel and I simply loved this version of its theme song; DEUS EX HUMAN REVOLUTION, the one that the whole world seems to like and I'm the only person who didn't – here's my longer review about it – but it's definitely worth a shot, even more so that its soundtrack is clearly on par with Vangelis' Blade Runner OST; FAR CRY 3: BLOOD DRAGON, a whole-hearted FPS homage to 80's action movies that doesn't take itself seriously at all for even one second; SYSTEM SHOCK 2 with the most sinister bitch-ass AI ever put to a computer screen (together with every one of them, because they seem to be bitch-ass-eviling humanity with an off-the-shelf dislike for anything that has endorphins); HACKER EVOLUTION, a hacker simulator that's clearly based on Introversion's groundbreaking UPLINK and seems to have its own devoted followers; and a whole lot more!
Go, spend your new yens on mind fodder until March 20th! (Steam cyberpunk sale)