Black Nail Cabaret's singer-and-songwriter Emke has been something of an example to me, of how to stick with one idea and run with it until your feet bleed and then run some more: she's taken the synth noir girl duo Black Nail Cabaret, one of Hungary's best-kept secrets to a great length, I still remember how they started out in an era when our alternative scene had its neon-filled heydays.

Nowadays we're both constantly busy with half a dozen different projects, all at once, but sometimes we just bump into each other on Facebook during procrastination-ridden work nights (as you do) and share loads of weird little links, music demos, VSTI videos and strange little alleyways of inspiration and then it all turns into LFO porn, obviously. I'm proud of her, because she decided singing would be a good idea and then writing songs would be a good idea and then there are gigs, there's an album` and then the next thing I know, she's working with the Daniel Myer of Haujobb and Architect – whose music I practically grew up on. So you might already have a vague understanding of a feeling of how I look at her. And then there's this one night when she says "just got the Haujobb remix for our new EP that's coming out real soon and OH MY GOD". That's when I first heard about Satisfaction.
Photo by Anita Kovács.
And thankfully it's out, out on Basic Unit Productions, putting them in the same label as Haujobb, DSX or Blush Response, getting some great response both musically and visually: the first week of 2015 welcomed Satisfaction on the 16th place of Deutsche Alternative Charts, coming in ahead of Faith No More (everyone seemed to notice this) and blog reviews are aplenty. If this is not enough, Josef Stapel, the creator of the Satisfaction cover art won an international Design and Design Award, landing this BNC graphic material in their Book of the Year Volume Eight – great exposure, all in all!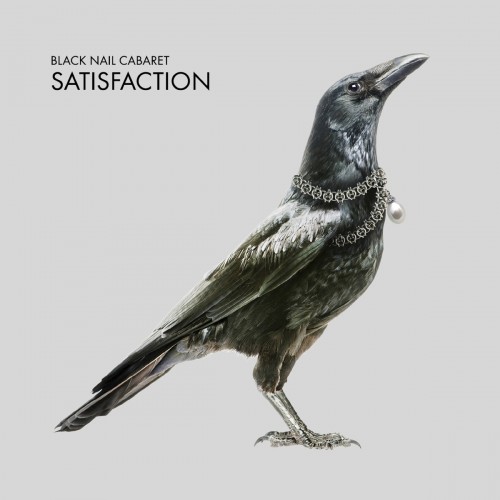 As you can hear/see above, Black Nail Cabaret is very much synth noir at heart, creeping into our hearts slow and sensual, outpacing even Kuang Eleven speed icebreakers on their trajectories, sharing the conceptual stage with bands like Parralox or Foretaste. There's a cold analogue retro flavour to them from Day 1 onwards and Satisfaction works with that beautifully, dropping you a bassline that gets you moving and keeps you im rhythmus bleiben as it builds up its catharctic sad structure, layer by layer – great track on any Schwarze Szene dancefloor. great music production and ideas by Krisztián Árvai. The beforementioned Haujobb track doesn't deviate from the very minimalistic approach of their latest materials (culminating in their 2011 LP New World March), strangely taking the approach of turning it from a floorfiller to something of a contemporary dance soundtrack, laidback in its rhythmics, unkickdrummed, taking Emke's vocals into an urban landscape of analogue bleepy minimalismo, almost unplugged. Definitely unique, but if your blood wants more tempo (and I know mine usually does), you'll be a lot happier with the People Theatre remix, pacy and jumpy like Gesaffelstein, hitting the speakers best when you're either midnight-driving into oblivion or driving the point hom at a witch-goth warehouse club with too much mascara running.
Surprisingly enough, I listened to the extra B-side track Elizabeth more times than all three version of Satisfaction – Emke's vocals work alluringly best with slow tempo sadness and this family drama ballad definitely sends shivers down my spine – if this is so good on an EP, how good can it be live, on a big stage? Go listen to this jewel now.
Two more things to go.
One: support Black Nail Cabaret and buy Satisfaction here.
Two: BNC supports Camouflage's Greyscale tour starting this March. This is the Facebook event for this first gig in Münich – if your paths cross the Greyscale trajectory, don't miss'em!
VERDICT: You need this.