Weekly news recap from Planet://Damage, a magnet of cyberpunk, glitch, music production and anything else that can look black and neon-tinted at the same time. Enjoy your stay.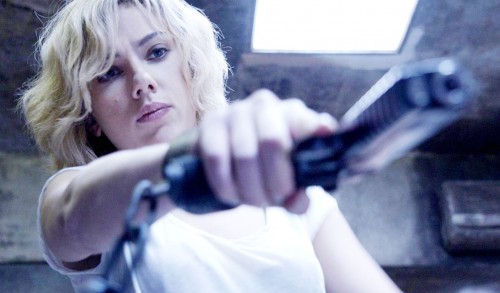 Scarlett Johansson is reported to play Motoko Kusanagi in DreamWorks' live-action reinterpretation of GHOST IN THE SHELL and boy, did that raise an army of haters on the cyberpunk and anime boards. I remember one similar occasion from a few years back, when there were talks of Hayden Christensen playing Case in the Neuromancer movie (which is supposed to be directed by Vincenzo Natali and insiders have been really silent about that one) and the vocal minorify of the interwebs went berzerk ballistic on his ass. Ramifications for that aside, it's interesting to see how anime stereotypes and gender conditioning gets in the way for people to actually be able to imagine how Johansson could very well do the Major. One of last year's best movie experiences for me was clearly UNDER THE SKIN, a film of Kubrickesque dark chemistry with a hearty vat of WTF. If she could pull THAT off, Kusanagi's going to be a relatively easy ride. Check this Variety source with a lot of namedropping.
Click on MORE for obviously more poor impulse control about music and tech!

GLITCH
Idea Channel's 7-minute venture into what glitch is and why it is aesthetically and conceptually so pleasing. I've been stalking glitch art groups and boards for long weeks now and I just can't get enough of their tricks and even the mention of Ferruccio Laviani's glitch cupboard just gives me the hard-on. Glitch Appreciation Society, anyone?
And while we're talking about glitch, here's an AMAZING MINDFUCK OF A GAME entitled Memory Of a Broken Dimension, one of the finalists for this year's Independent Games Festival (Excellence in Visual Arts). While I was also super happy to notice Aliceffekt's entry Oquonie, MOBD really twists elementary concepts of perception to the point where even looking around can be an adventure. Seriously. Go check out that trailer.
ONE SCI-FI SHORT
http://vimeo.com/77761436
An Off-World Detective investigates the missing research vessel ATROPA. Concept short inspired by '70s and '80s sci-fi classics like Alien and Blade Runner.
MUSIC DOCUMENTARIES
Noisey reports on music documentaries to watch out for in 2015: 808 is one of the few I'm VERY excited about, a documented romp into the TR-808 drum computer and how it shaped the techno scene. That, and of course Amélie Ravalec's Industrial Soundtrack for the Urban Decay, her crowdfunded venture into the industrial scene, from Throbbing Gristle to Clock DVA, Z'EV or Test Department… this year's gonna be a real treat!
MUSIC
The thrashy French lovechild born from an orgy of Crystal Castles, Atari Teenage Riot, Youth Code and Miss Kittin, KAP BAMBINO's been one of the most interesting music finds this week. Well, them and also a compilation of Chinese independent electronic artists entitled EXPO. And the regular review compilation from Headphone Commute, this time about the best releases of 2014. Headphone Commute's been one of the best music recommendation site for me last year, I'm sure they won't disappoint, they never do.
And when looking for chiptune sounds, I came across Puola's Hajotus on Soundcloud. If something can take me back to the tracker days, this surely is THE THING.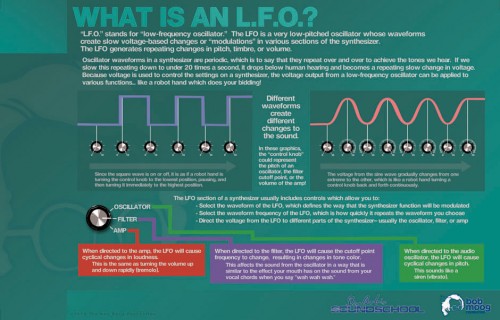 And I just found the Bob Moog Foundation's Synthesis Fundamentals gallery that you can order in a 11″x17″ poster size for your wall. I might want them all. Go and want them for yourselves, too.
And my friend Dawe_ just showed this to me yesterday – a promo video made for Hello Play, a Belgian electronic music platform, with the help of 3D prints, stop motion techniques and 6 kilogrammes of white chocolate. You're welcome.
WAKE UP, SAY HELLO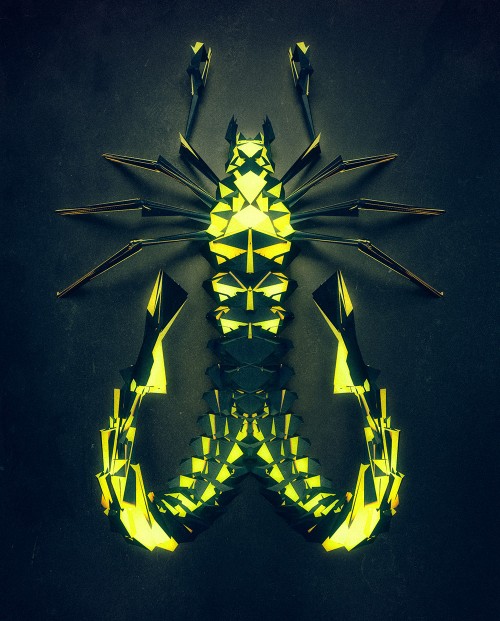 And to close this week's ADHD-rich romp, here's some polygonal insects for you made by Istvan of Chaotic Atmospheres. Truly brilliant. And a last image from Tumblr. Have a great weekend.