Justinas Mikulskis of Secret Thirteen just sent me this mix for your edification and amusement, featuring none other than KK Null himself. (I remember seeing KK perform some ten years ago in Budapest and he stuck me right in the smack middle of catharsis, tinnitus and awe. Also: you might want to read the KK Null interview in the Tokyo issue of The Dose mag. Yeah, there's a new Dose coming soon!)
While you're busy fishing for new stuff, check out the previous mixes of Secret Thirteen (with names like Orphx, Scanner, Loscil, Biosphere or Xhin) and Justinas Mikulskis' Headphone Commute mix, just for starters..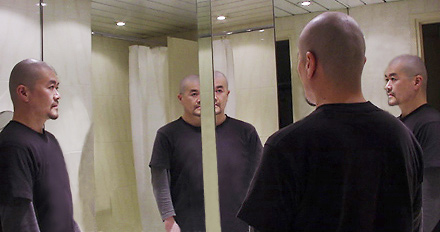 The author of the mix is Kazuyuki Kishino (b. 1961), publicly known as KK Null, a Japanese composer, multi-instrumentalist, sound sculptor and singer, who lives and works in Tokyo, Japan. Active since the early 1980′s, Kishino has progressively become a synonymous with so-called Japanese noise scene and an influential experimental music figure in a much wider global context as well.
"Secret Thirteen Mix 076" is a compositional and thrilling audio collage mirroring Kishino's early influences that had a significant impact on his later music activities. The mix includes 24 timeless works released between 1953 and 2012 by honorable composers and musicians such as Iannis Xenakis, Bernard Parmegiani, Miles Davis, Alan Lamb, This Heat, Z'ev, David Tudor and Slayer. There is also a strong impression of KK Null's musical individuality as well as the mix hides 4 of his powerful and authentic compositions. One of them titled "Eternal Implosion" haven't been published elsewhere before.