Hello. Etape 2 for Capture File: a coffeebreakful voyeurism into cultural products of cyberpunk, futurepresent, glitch culture and whatnot, every Thursday in the eurozone. This week: more Soundcloud finds, augmented reality solutions and various other random finds of silicone. Above: a great collage of Tokyo night streets mashed together with the Vangelis Blade Runner soundtrack (sent by ákosmaróy). If you have anything to add, share or comment, do so here or find me anywhere on the interwebs with the planetdamage handle. And, yeah, have a great weekend.
This week's audio loot inadvertently begins with MORE AMBIENT GLITCH. One of the nicest finds of last week was Enig'matik Records and their latest compilation Painting Pictures on Silence, more electronica for work, zoneruns and anything else you could think of. Similarly laidback but even more experimental is Infinite Rounds, the first album of Hecq that he released under his own name, BEN LUKAS BOYSEN, free to download with similarly glitchy-experimental stuff from the Grundruck archives. Glitch and minimal electro are also abundant EVERYWHERE, especially on Soundcloud – giving you NEWK and JENNIFER TOUCH this time, both of them from the upcoming artists section. If you're more for non-vocal experimentica, Newk will be your companion for the evening, if you're more like into analog bass, a minimal sound and some female vox on top of that in the vein of Farah or Chicks on Speed – then Jennifer Touch is definitely for the taking. Also: my friends at ANGELSPIT are doing a new business model for their releases so far with a package called Spitpill – a 4 GB package that's filled with not only albums but lots of extras from particular album eras, definitely worth trying! (I'd recommend Krankhaus or Blood Death Ivory for Angelspit noobs.)
(Check out samples for each album behind the thumbs. You have to trust me on that one.)
And Hedflux's Rhythm Prism, a find via Enig'matik was a huge psybreak jump-up two-hours session, so I need to give you this, too!
AUGMENTED REALITY:
The latter half of the 20th century saw the built environment merged with media space, and architecture taking on new roles related to branding, image and consumerism. Augmented reality may recontextualise the functions of consumerism and architecture, and change in the way in which we operate within it.
This week was quite a read into augmented reality and its practical applications, mostly advertising and resumes. Keiichi Matsuda's videos were easily the BEST find into AR, showcasing a potentially bloodcurdling density of ads, you'll find these blow with his comments – read more about his take on the future on keiichimatsuda.com. I was also wondering a lot about how to make a good AR CV – and then I came across this augmented reality CV campaign from 2010 – not the kind of solution that would be an instant win for the masses, though. This was also something we talked about with a number of people – and our sadness felt on how low-grade you have to go to give cheap or overused technology to the masses. QR codes huge in the UK AGAIN? Yeah, new waves of iPhone releases, the ever-raising iPhone penetration and then a new wave of Android platform penetration does provide further waves of possibilities for agencies – until we can smash our faces against the new waves of active lens and AR headwear.
The architecture of the contemporary city is no longer simply about the physical space of buildings and landscape, more and more it is about the synthetic spaces created by the digital information that we collect, consume and organise; an immersive interface may become as much part of the world we inhabit as the buildings around us.
Augmented Reality (AR) is an emerging technology defined by its ability to overlay physical space with information. It is part of a paradigm shift that succeeds Virtual Reality; instead of disembodied occupation of virtual worlds, the physical and virtual are seen together as a contiguous, layered and dynamic whole. It may lead to a world where media is indistinguishable from 'reality'. The spatial organisation of data has important implications for architecture, as we re-evaluate the city as an immersive human-computer interface.
STUFF TO READ:
KEIICHI MATSUDA: Cities for Cyborgs – 10 Rules
DONA M. WONG: The Wall Street Journal Guide to Information Graphics
AHA!-MOMENT NEWS OF THE WEEK:
New Theory: Universe Didn't Start with a Big Bang but with a Big Freeze
Hackers Backdoor the Human Brain, SuccessFully Extract Sensitive Data
Warren Ellis' documentary CAPTURED GHOSTS is finally out and available for orders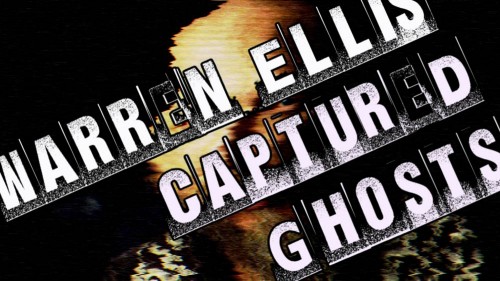 More stuff next Thursday. News chips and weirdness all week at planetdamage.com. Stay tuned.