Hello. This is Damage von Rock and this is your coffeebreak into cultural products of cyberpunk, futurepresent, glitch culture or however we prefer to call this these days. This is a weekly edition of recommendations into music, books, weird reads, youtube podcasts, counterculture movements and whatnot. Share and retweet this and send me love, hate or more links to spread to planetdamage/gmail. As for the weekliness: expect Thursdays and I'll keep this regular. I'm receiving so much content these days, it would be dozens of different kinds of sins not sharing the fun with you all. Above: one of the greatest tech advertisements I've ever seen, all orchestrated to the amazing music of Hecq.
BALLISTIC AUDIO LOOT:
That moment when you realize that you're working with headphones on so much that most of the music you listen to is just ambient or sentient glitch. NEW MIND's Fractured is the odd-one-out: if you liked Skinny Puppy, Yeht Mae, Pouppée Fabrikk, Numb and all the harsh and dissonant industrial of the nineties, this will be right up your alley. Lots of great buys and long-forgotten favourites in the cart this week, too. Cyberpunk's musical underdog Eric Chamberlain might have been a bit too obscure with his projects Index and Index AI (his album Sky Laced Silver from 1995 IS A BLAST, one of the best cy electro pop albums I've EVER heard) but with great catchy tunes HE IS GOD. Two of his latest side project releases (TELEPHERIQ and COCONAUT) are evident proofs of this – nothing too harsh but a lot of catchy electro with a nineties sound. Perfect. The biggest surprises this time come from Tympanik Audio as always: STENDECK's Scintilla and brand-new label release Lights by TINEIDAE are gorgeous ambient/glitch releases, great to work to, except for the moments, when you like tracks so much that you need to taskswitch just to look at Winamp. Terrible, I know. (And yet, you simply cannot go wrong with their stuff. Ever.) BEN LUKAS BOYSEN – better known for a few of us as HECQ – also released a new jewel, a more traditional sounding, brooding dark ambient movie soundtrack for Restive, this time on Hymen. And last – something you really need to spend your 5 pounds on – comes the Electronic Explorations compilation. Oh. My. God. All money goes to keep the Electronic Explorations podcast alive, and for that, 61 artists donated exclusive tracks to the cause, which in itself is just enough to donate, and the list of artists will appeal to you very much if you've been in this scene for at least a spell – Access to Arasaka, Milanese, Enduser, Bong Ra, Neil Landstrumm, Ital Tek or The Kilimanjaro Darkjazz Ensemble… GET THIS COMPILATION!
(Check out samples for each album behind the thumbs. Except for New Mind. You have to trust me on that one.)
And Stendeck's been haunting me, so here's their latest video.
A NEW SHOW TO KEEP YOU HATING

H+: The Series has been something of a stir during the past week. Transhumanism has been on our tits since Sterling, Kurzweil has been all over the news with turning ourselves into methuselahs, then basically making a Lego Mindstorm bot out of the galaxy, R.U. Sirius published H+ Magazine and now he's running Acceler8or for us grinders – and now this. What happens if A Company fits us with implants and a worldwide virus wipes the trendsetters and their eager followers? Or basically this is how it looks from here – very short episodes keep us from getting the bigger picture which is both a great mechanism to keep us all waiting and a goddamn bother at the same time. Great production quality, though! (And six "episodes" are already out!)
READING THESE AT THE MOMENT
Mattin & Anthony Iles (ed.): NOISE & CAPITALISM
Rosa Menkman: THE GLITCH MOMENT(UM)
Karen McCarthy Brown: THE VEVE OF HAITIAN VODOU: A STRUCTURAL ANALYSIS OF VISUAL IMAGERY
I am playing Jenga with the stuff I need to feed on – books on infographics, traditional Chinese medicine and lots of Japanese grammar. That one completely because of Miss Toyclouds.
STUFF TO BE HAPPY ABOUT
Yes, this is also partly personal.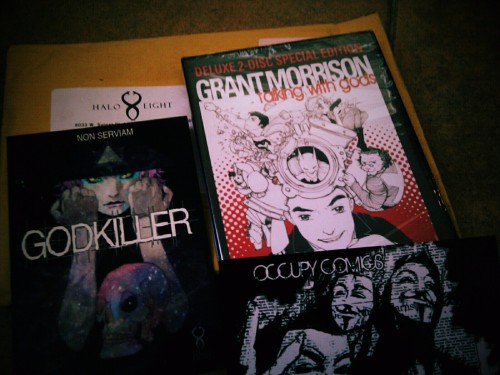 Cannot thank Grant Morrison enough to pull me back into the weirder segments of the counterculture and his influence on my past two years is immense. The 2DVD version of the documentary Talking With Gods from H8LA will not only give you a long look at his work process on the non-magickal comics industry work and an interesting panopticon on how other comics artists see him, but also his take on fighting writers' block, magick apart from sigilwork and a longer introduction into his friendship with Frank Quitely. If you're a fan, this is a must. If you're not yet a fan, this is a must, too! (If you need introduction, get his life-changing comics masterwork The Invisibles, read his primer into chaos magick Pop Magic!, check out the wee bit chaotic and weird 45-minutes talk he had at Disinfo Con or check out his Alternity performance.)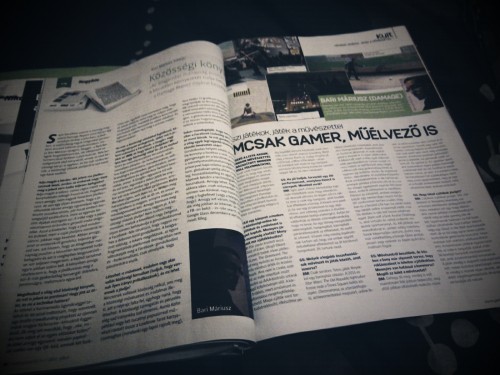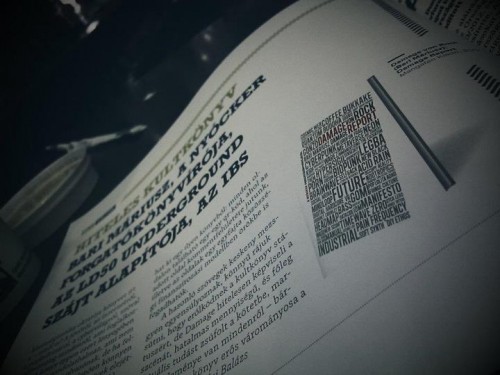 My first gonzo non-fiction book on cyberpunk, possible futures and alt/pop culture entitled DAMAGE REPORT was published this April by long-time work partner company MangaFan – and apparently the feedback flow hasn't finished yet! Top pic: two interviews in paper mags: one on social books and more generic stuff in the 2012 July issue of PC World and one on my take on future gaming in the 2012 June issue of Gamestar. Bottom pic: Hungarian creative/socmedia professional mag Kreatív wrote quite appreciatively of the mad brainstorm and claimed it's on the best track to go for a cult status. Hope this is not a kind way of saying But we need to kill you first. Or maybe it is. I should have trained death midgets nailed to my front door.
FINALLY! A collaboration with the acknowledged Australian cyberpunk magazine MACHETE GIRL (they're really working hard to keep cyberpunk afficionados and newbies ROCKING)! This should be out late August – early September if I remember everything right and this issue will also feature a piece I wrote on how technology, bodymods, superhero branding and magick all run side by side.
YOU GUYS SENT THIS:
Gameplay trailer for cyberpunk third-person crime/shooter/immersion package REMEMBER ME. This IP is developed by Capcom, takes place in Paris in 2084 and the protagonist Nilin sounds a lot like.. Yvonne Strahovski? (This one was sent by Ripla – thx! – together with the game trailer which was also sent to me by CoSMo!) And, oh yeah, another one by him below, which is a Live Action "Sleeping Dogs" fight film – taking a bit after Ong Bak and an excessive use of smashing doors at heads. Apparently, any kind of door. Even the one that looks like a table.