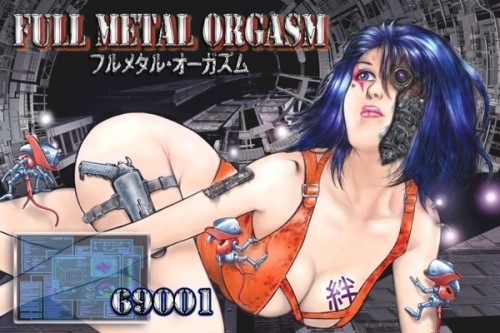 Above, that's the work of controversional hentai artist and Urotsukidōji creator Toshio Maeda and this, this is planetdamage.com telling you to go support adult indie literary sexpunk zine FULL METAL ORGASM.
Sexpunk is the geometrical focus point in the triangle of cyberpunk futurismo, gonzo brainspit and adult filth. Carrier waves and viral vehicles are mostly Japanese (glowjob-infested Tron porn remakes do not even come close, although Bizarro literature does have a strong flavour in how current sexpunk really is) and most of the stuff I find in this scene come via Brent Millis, editor of the fanzine Full Metal Orgasm and writer of actually intriguing and great materials like BUKKAKE BRAWL (find more on him at junkdna.tumblr.com and also at amazon.com) and also an editor behind Kizuna, a a mixed-genre anthology of short fiction created to help orphans in the disaster-devastated areas of Miyagi, Iwate and Fukushima.
So, Brent has already launched his first issue of FMO and he's now campaigning for funds for the second issue – the IndieGoGo campaign site is here, at least go and read what he has to say about it before deciding to spill some well-earned new yens his way. ROCK!