Just gotten another idea for the fiction projects I'm working on – and bone as a ritual apparatus (either technological or occult) is a powerful fusion. Find out more at Wayne Martin Belger's Boy of Blue site and this all comes, weirdly, from IO9 (you can check out photographs done with skull cameras at both sites).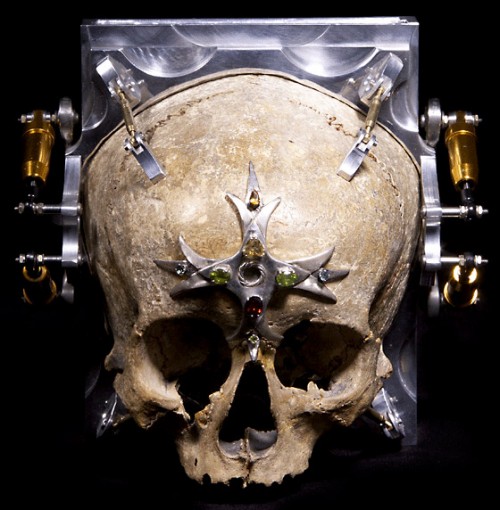 Third Eye Camera – Designed to study the beauty of decay. 4″x5″ camera made from Aluminium, Titanium, Brass, Silver, Gem Stones and a 150 year old skull of a 13 year old girl. Light and time enters at the third eye, exposing the film in the middle of the skull.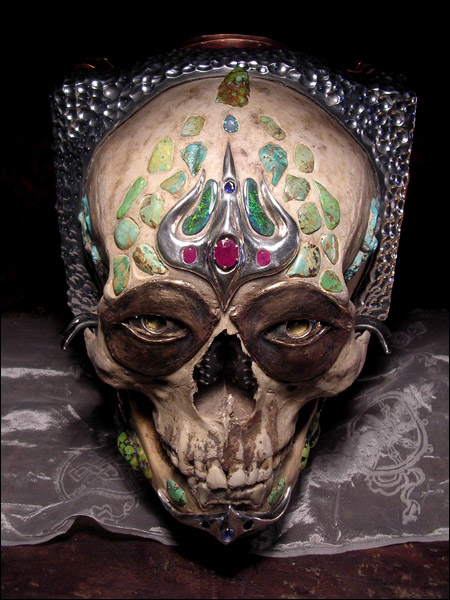 Yama (Tibetan Skull Camera) – Yama's eyes are cast from bronze and silver with a brass pinhole in each. A divider runs down the middle of the skull creating two separate cameras. A finished contact print mounted on copper is inserted in to the back of the camera to view what Yama saw in 3D.

Yama is made from Aluminium, Titanium, Copper, Brass, Bronze Steel, Silver, Gold, Mercury with 4 Sapphires, 3 Rubies (The one at Yama's third eye was $5000.00), Asian and American Turquoise, Sand, Blood, and 9 Opals inlayed in the Skull. The film loading system is pneumatic. A 300psi air tank in the middle of the camera powers 2 pneumatic pistons to move the film holder forward and lock it into place. The switch to open and close the film chamber is located under the jaw.