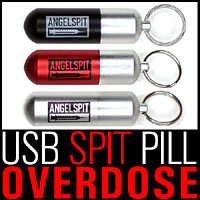 International electro-psychotics ANGELSPIT have announced the USB SPIT PILL: a 4GB USB in the shape of the iconic Angelspit pill. Fans will be able pick and choose which Angelspit releases they want to have loaded onto the USB SPIT PILL. These releases include previously unavailable photos, interviews, videos, and much more.

Each USB SPIT PILL comes with Angelspit's newest remix compilation "[Re]fibrillator" pre-loaded. Fans can add as many Angelspit releases as they desire onto the USB SPIT PILL, from the most recent "Hello My Name Is" (2011) to the earliest "Nurse Grenade" (2004). Even tracks from Zoog's pre-Angelspit band "Jekyll Switch" will be available. Other releases include the never-before-released "Angelspit Live 2009" and "Rarities" (featuring several remixes by Angelspit for other bands). The releases contain enough special features to destroy any fan's mind PLUS they are cheaper than the regular digital versions on Amazon or iTunes!
You need one now. I actually need to buy a complete discography – every album seems to be filled with hi-rez artworks, lots of extra images, videos and of course the rarities. Get yours customized. Now. Here.