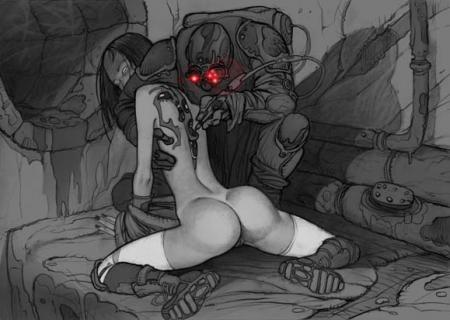 The Neuromancer movie, the very essence of SF's past 25 years in terms of hardcore ideas and inspiration is starting to look like Duke Nukem 3D – all concept art, production tidbits and status reports but no actual stuff to prove things are past the paperwork discussion and the creative process. Brace yourselves, we have a new contender in the arena. According to the news coming straight from our friends at QuietEarth, there's been a fatality – Joseph Kahn is off the list and Canadian SF director Vincenzo Natali has the blessing of the pope of cyberpunk himself. Here are the steps that led us right to this point.
Yes. This is May 19th, 2011 now and this article has been posted in the Paris issue of The Dose mag approximately a year ago. Still, the QuietEarth guys just posted today that the Neuromancer movie is now officially in pre-production so to avert the hex of production hell (so to say), here's a brief summary of what happened so far. Do enjoy.

01. William Gibson writes Neuromancer. (This is a perfectly normal English sentence. How did that happen?) Daily consensual hallucination of millions of users behind corporate firewalls? Yes, that's you playing Farmville. Still, back in 1984, this was a bible to some. (It was for me, for one.) Then R.U.Sirius and raves and Second Life happened. Life was joyous.
02. Enter Cabana Boys Productions and director Chuck Russell (The Mask, Nightmare on Elm Street 3, Eraser, The Scorpion King). This was around 1990. I have something called a bootleg script by Russell linked at the Gibson Aleph. It is also very, very fake because the movie ends with "To love and be loved is everything." and it is also one fuzzy take on the events, smoothing everything into a pot, oversalting, then burning, then breaking and then fucking them.
03. Alliance Communications and director Robert Longo was the next potential phase, killed off by the apparent failure of Johnny Mnemonic (that was in 1995). If I know this right, almost all movie mags in Europe scored it below 25% and I think I am the only person in the world who likes it. If Longo had worked on this, it'd probably have Sho Kosugi as Hideo, Daryl Hannah as 3Jane and Jacob Miller of Inner Circle as Maelcum. Right. Go get the Japanese edition of JM instead. It has all the pop tart cheesiness.
04. Seven Arts Pictures takes over the rights and Chris Cunningham, legendary master of weird music videos is appointed as director. Gibson previously said he's the only director with a chance of doing the film right. His work with Aphex Twin, Squarepusher, Leftfield or Björk might give you obvious hints about the amount of ROCK and WEIRD this movie might have been floating in, just the beehive scene would be fifteen minutes long where Richard D. James would be the beehive and broken Thai dolls would be eating mad ant jelly inside the hive and there would be alleyways inside made of Hello Kitty radish and radioactive tinfoil. The movie would have been released around 1999/2000.
05. After years of silence, Neuromancer comes out of production hell to production mayhem. Joseph Kahn, director of Torque is announced as director, Christian Haydensen as Case. There is a great amount of fan outrage at these outlandish decisions, Coilhouse editors post the George Michael music video Freeek to showcase some visual talent. The beehive scene would be fifteen minutes long in this movie with a motor chase in a gay bar with blind human torches. Then it turns out that Tron 3D will have motors and will actually look like something The Matrix shat out and it will have at least 8 stars out of 10 on Cyberpunkreview's rating list. Kahn is rolled back into the tanks and kept on drip feed.
06. Canadian director Vincenzo Natali (Cube, Cypher, Splice) is announced as director who'll also rewrite the screenplay like a maniac. We've seen his stuff, his quality of work is unwavering and he's always been French kissing future corporate espionage, surveillance, technology and the gritty side of cyberpunk. According to the interview QuietEarth quotes from IO9, Natali thinks this movie is more relevant than ever, reflecting to topics like posthumanity, evolving minds and interacting and merging with the machine consciousness. He's mentioning 2011-2012 as a possible screening date. God bless Canada.