Hello. I am Damage, gonzo journalist, catalyst and an explorer of weird and futurologistic. A month ago I knew how to time travel. Now, only a few hours ago, to my best knowledge, I woke up while being abducted by space aliens and remarkably under the drills. It gives me great satisfaction, erection and self-confidence to conclude that ambassadors of superior civilizations warp time and space just to drill me. And I also think this was also the equivalent of a galactic job interview. Because we finished the new issue of The Dose magazine. About Paris. And you will buy this magazine. Because all the money I will hoard up from sales will go into new pancreas and a one-way ticket to Singapore. But more about this after the embed and the jump.
THE DOSE magazine – Issue 3 (Paris) TEASER
The Dose. For those who're late for class, it started as a free PDF mag targeting one city per issue to showcase its weird underdog talents: musicians, artists, designers with a focus on music, more music and great eyecandy. I had friends helping me out but it was mostly a solo project and it was a great thing to do, doing a pilot on Budapest and then two more issues, on Tokyo and London. Then three years passed. And we decided to go back to the original plan we liked, I quit being a full-time IT journalist and after long months of working in our free time, here's the Paris issue. If you were following up on what I did, I promised so many times that this will come that you probably didn't believe me. But it's here now.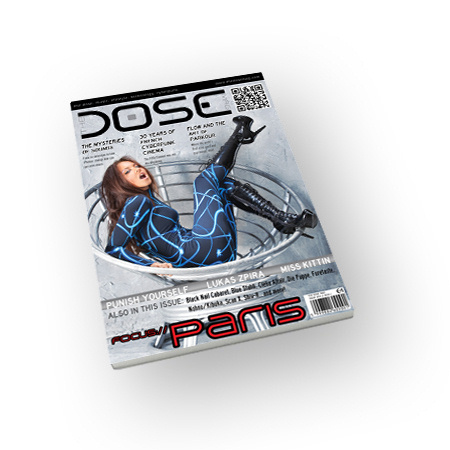 Yes. The Paris issue. It has features on French steampunk, cyberpunk, netlabels (amazing stuff ranging from mad orgy freejazz to pumping warehouse techno), parkour, psytrance (a great comparison of chocolate and goa!) and fashion. And a great piece of infographics about French bands we loved. Features on LVA, brain hacking and Chinese underground music. Interviews with Clélia Altaïr, Punish Yourself, Lukas Zpira, Die Puppe, Foretaste, Miss Kittin, Scan X, the guys at Dejobaan Games and RJDJ, Nohno / Kibuka, Blue Stahli, Shiv-R and Black Nail Cabaret. And e-readers. And our recommendations for 2010. And lots of reviews.
So spread the news, enjoy the show, buy our mag, support the artists, don't steal this mag if you don't exactly need to, send us feedback and contact us if you think you could help us rock more. And here are a few music videos from these previous artists you gonna love!