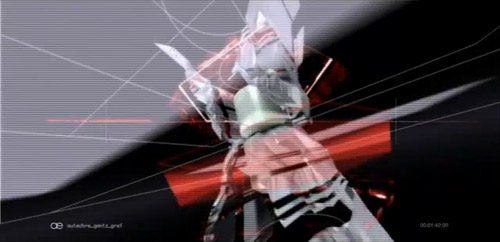 Az eyecandy legjobb magyarítását még @felemaszokni tumblrjéből sikerült elemelni egy kósza reggel, a pupillapornó lefed minden lehelletnyi utalást, amire az angol csak olyan popkulturától szagló szavakkal referál, mint a clock porn vagy a furniture porn, én pedig végre napfényes, fehér és mégis meleg hangulatú, egybenyitott óriásmanzárdhoz ajánlom az alábbi négy Autechre-videót, amit szinkronból, feszült elméket lazító geometriából és a hangok és a világ okkult összefüggéseiből hegesztettek és kaszaboltak össze olyanok, akiket a világ éjszakánként titkos búrákban nevelt a látvány-hangzás-szinkron wu dan skilljeire. Ha valami szervesebbre vágytok, még mindig meg lehet kattintani a Stefan Ringelschwandtner rendezte nemhivatalos Pro Radii klipet.
Unofficial-non commercial video for plyPhon, a song from the latest Autechre release, Quaristice. Every visual element is connected to a sound event; the whole video is intended to be like a sort of virtual score that develops itself in a continued run, according to the music. (lucioarese.net)
DROPP unofficial video made by: http://parkink.net AUTECHRE – ep7 WARP(UK) / NOTHING(US) wapep7 12″+12″/cd 1999
PIR.
The video for Gantz Graf received widespread attention – perhaps more so than any previous output from Autechre; in interviews, Alex Rutterford stated that it achieved cult status in underground computer-generated imagery art circles. The video features an abstract object (or an agglomeration of objects) synchronized to the sounds in the music as it morphs, pulsates, shakes, and finally dissolves. Alex Rutterford (who had previously created an unofficial video for the Tri Repetae track "Eutow" as part of the Channel 4 music programme Lo-Fi in 2001) claims the idea for the "Gantz Graf" video came during one of his LSD trips. Rutterford also stated that there was no generative element to the imagery; every three-dimensional object in the agglomeration was painstakingly and manually synchronised with a specific element or frequency range within the track. (via wikipedia)