Tron is not only the first mainstream cyberpunk franchise (by none other than Disney – followed by a quite okayish FPS entitled Tron 2.0), it's also flashing its way back to the movie screens in 2011. The San Diego Comic Con trailer – re-posted above, featuring a subtle mouthwatering lightcycle action sequence and Jeff Bridges – promised us the title TR2N, that's recently been, for unknown reasons, renamed to TRZ.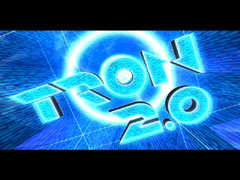 The script's being worked on by Edward Kitsis and Adam Horowitz of the Lost fame and is directed by Joseph Kosinski, straight into stereoscopic 3D (similar to the SDCC trailer). Ain't It Cool News also adds that the movie's going to be a twenty-four months movie project, so TRZ might be finished up completely by late 2010. Michael Wilkinson from the Watchmen production crew is responsible for the costumes and Steven Lisberger, the creator of the original TRON movie is hired as a consultant. Slashfilm writes that "external riders seen in the Comic Con preview were actually part of his original design, but deemed too technologically challenged for the original 1982 film". Slashfilm also has a Production Weekly synopsis and an insight on that: 
"After being transported into the surreal landscape of a mainframe computer to destroy an intruder, a programmer finds himself allied with the leader of a rebellion against a corrupt cyber-entity." The early test footage/trailer shown at comic con featured Jeff Bridges, reprising his role as a programmer named Flynn from the first film, but possibly with a turn to the dark side. If the new plot synopsis is true, this would mean that Flynn is teaming with a new programmer to defend the system from his former friend Tron. 
And eat the classic Tron production stills while you're at it.