In the past six years I was always more of a promoter than a DJ, even when I moved a dancefloor of two hundred, I knew it was nothing really like the real thing, vinyls, Technics, the crossfader: all the real deal. We always loved CDs and laptops more, either because we were a new generation or we were just wannabes and couldn't afford the original way. But how we lived our life and the typical problems that we all had at the time because of what we did is awesomely reconstructed in the new graphical novel by Paul Sizer.
B.P.M. has an awful amount of teaser pages on the project site and as far as my knowledge goes, it'll be available in November. Read the teasers, order the rest with me. Let me share the official stuff with you.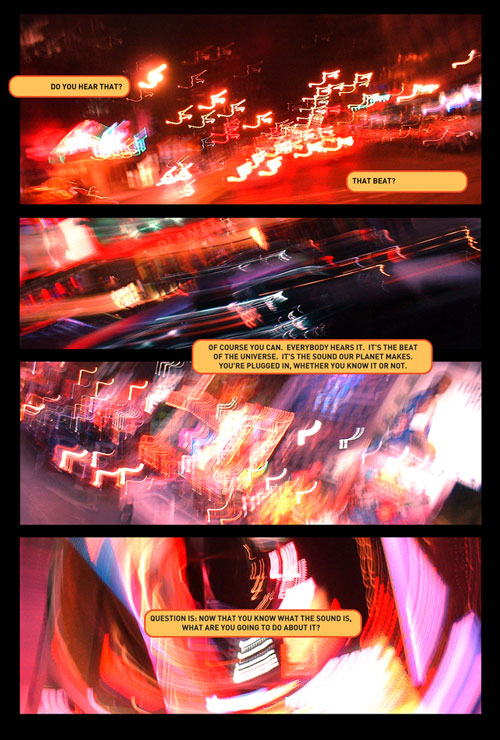 BPM is a full color 96 page graphic novel written and drawn by Paul Sizer (LITTLE WHITE MOUSE, MOPED ARMY graphic novels). The graphic novel will contain the main story, plus a comprehensive sketchbook section and detailed playlists and notes. Plus, the book will also be linked with iMixes from the Apple iTunes website that provide a "soundtrack" to accompany the book, as well as playlists for each of the main DJ characters, showing each person's musical tastes.
"B.P.M." is Paul Sizer's love letter to the music he loves. In combining the story of a young DJ with the power of computer enhanced artwork, Paul's goal is to merge his love of comics and his love of music into a moving, dynamic story of passion, motivation and hard choices over following one's creative dreams. Paul has challenged himself as a writer and artist, using new techniques to tell this story. Combining his art with hundreds of photos he's taken in New York, Paul has worked to make "B.P.M." a unique visual experience as well as a thoughtful and engaging story that transmits the raw power and inspiration that music can generate.