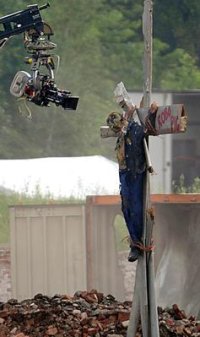 Bloody-disgusting reports on a new cyberpunkish movie from the turf of Disney – who actually gave a sort of birth to neon wireframe aesthetics with Tron some 23 years ago. (BD hears we should feel mildly threatened.) THE SURROGATES – headlining Bruce "Relatively Antisocial" Willis – is based on Robert Venditti's same-titled comics and is set in a futuristic world where humans live in isolation and interact through surrogate robots, a cop (Willis) is forced to leave his home for the first time in years in order to investigate the murders of others' surrogates, sez the official synopsis.
This very much sounds like a classic cyberpunk treat to me, although I take the whole story with a grain of salt after knowing it's Ferris and Brancato behind the wheel – also the guys who worked on the Terminator 3 script. (Yes, I know producers, investors and in general, dickheads can turn your otherwise brilliant script into a washing machine of squirrel vomit. Still. T3 deserves ebola machete.)
According to the Variety report, film producer David Hoberman sez This is a grounded sci-fi premise, but there are big effects, and it's clear from '300' that people want to see different kinds of things, and this falls into that category.
(via bloody-disgusting, also variety and milford daily news)