Kurt Wimmer's Ultraviolet is being re-worked into an anime by Osamu Dezaki (Lupin III). The new version, Ultraviolet Code 044 premieres July 1st in Japan and according to ANN, it's going to be a series, including Madhouse and Tezuka Productions animator and character designer Akio Sugino (who also worked for Black Jack and Golgo 13). Trailer above.
Ridley Scott returns to the SF world by directing Huxley's Brave New World. "DiCaprio will play John the Savage, who lives a "natural" life on a reservation while the rest of cloned humanity is lulled into docility with sex, soma (drugs) and feelies (films that also involve the senses of smell and touch). He finally escapes celebrity to become a lighthouse keeper", sez Times Online.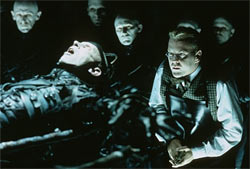 According to bloody-disgusting, David "they killed my Blade series" Goyer says a new edition of Dark City will be released on DVD and will probably have limited theatrical. You can expect FX upgrades, a redid score, longer cuts, lengthy interviews with parties involved and all this will be available via Blu-Ray as well.