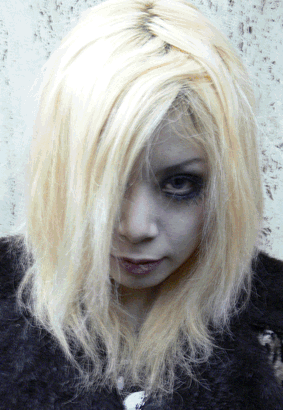 As some people will already be aware, Ana took her own life on March 24th, 2008. It is with a sense of horror and great sadness that I am obliged to make this the first official statement on this, the Official Myspace profile for DESPAIR.
At this time, this terrible loss is still very raw: and it is difficult for me to put into words the conflict of emotions I feel. I will make a full statement in due course.
In the meantime, I would ask people to refrain from e-mailing us directly with questions about this subject: please allow us to deal with our grief privately.
If you wish to leave some message of condolence, I have opened the 'Comments' board to allow you to express yourself in this way.
I have also uploaded what now becomes Ana's final song with DESPAIR – 'Gash' from the new DARKER WATERS compilation. The release date of this compilation has been changed to June 7th: the same date that we – along with many of Ana's other friends – will play a concert in her memory at Shinjuku Marz (Tokyo Dark Castle).
The answer to the question 'Will DESPAIR continue?' is 'Yes: of course'. As others of you may be aware, Ana had in fact already played her final show with DESPAIR in February: and Rieu and myself were already recording material for the new album without her. However, I had hoped and believed that one day she might return: something which can now never happen.
I will write in more detail when I can collect my thoughts better. Until then, please bear with us at this difficult time.
Thanks
JUDE (Despair)