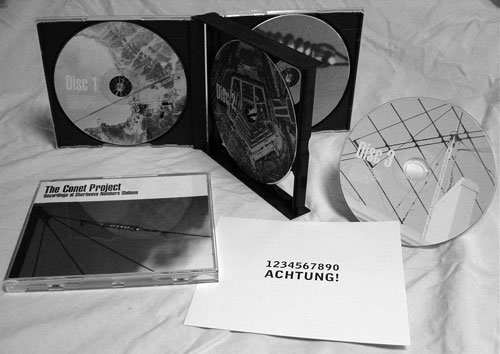 Hidegháborús államtitkokat, matahariktól és vérszökőkutaktól lucskos kémtörténeteket és a Fringe idevágó epizódja óta összeesküvés-elméleteket kombinálnak össze a
The Conet Project
gerinckarmolgatóan hangulatos felvételei: a rövidhullámú rádiózás értői és avatottjai csak
number station
ként ismerik azokat az adásokat, amelyeken kizárólag rövid zenei vagy dallambetétekkel központozott számsorokat hallhatunk. A berlini fal leomlása előtt, úgy hírlik, még ilyen, csak
one-time pad
ekkel visszafejthető kódsorok formájában kapták a kémek és titkosügynökök utasításaikat – a számállomások viszont a mai napig működnek. Töretlenül. Az
Irdial
az elmúlt húsz év felvételeiből tallózott négy korongnyi mintát, amiket
itt
tudtok letölteni (meg számos más helyen is, legálisan,
pl. az archive.org-on
), a negyedik CD-n még magyar nyelvű (
NNN/V18
) samplet is hallhattok, a helyetekben rákeverném a NASA
hangfelvételeit
a Jupiter mellől
, mellé pár véletlenszerű tracket a
Vir Unis – Carbon Based Lifeforms – Z'ev
háromszögből, aztán várhatjátok a démonokat. Kellemes hétfőt. Amúgy.
Messages of creepiness and unearthliness crawling through the realm of shortwave a.k.a. number stations. If you're a Fringe fan, you've probably already dug your way into one of the weirdest one-way communication methods of the past century, weird radio broadcasts carrying seemingly endless lists of numbers read in monotonous voices. Now Irdial's offering you (actually they've been offering this to you for quite a while, here's also a download link at archive.org) a number station broadcast compilation spanning 4 CDs from the past twenty years and it's nothing short of weird. Put it into your mix, spice it up with the NASA Jupiter recordings (just as we did), add some Vir Unis, Carbon Based Lifeforms and Z'ev tracks on top and then expect the worst. A great Monday to you, by the way.