Home » think
the damage report 005: parkour, avagy a srácok, akik nem torkozták le a tehetetlenséget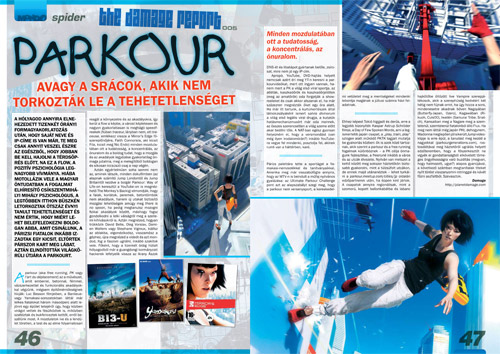 A hólyagod annyira elnehezedett tizenkét órányi formagyakorlatozás után, hogy saját neve és IP-címe is van már, te meg csak annyit veszel észre az egészből, hogy jobban be kell hajolni a térdsöprés előtt, na ez a flow, a pozitív pszichológia legnagyobb vívmánya. Hiába motollázik vele a magyar öntudatban a fogalmat elhíresítő Csíkszentmihályi Mihály pszichológus, a legtöbben itthon büszkén letorkoztak ötszáz évnyi tanult tehetetlenséget és nem értik, hogy miért lehet belefeledkezni boldogan abba, amit csinálunk, a párizsi fiatalok inkább izzadtak egy kicsit, eltörtek párszor kart meg lábat, aztán elindították világkörüli útjára a parkourt.
A júniusi Mondóban megjelent damagereport arról, hogy mi a parkour, miért jó meg Japánban mennyire van elterjedve (kb ugyanannyira, mint bárhol máshol) és csendben hallgatunk arról, hogy gyakorolnod tíz évig kell napi nyolc órát ahhoz, hogy tényleg jó legyél benne. De pssszt. Kattintsatok inkább, megint peaket akarok.

A parkour (aka free running, PK vagy l'art du déplacement) az a művészet, amit emberrel, betonnal, fémmel, vázszerkezettel és funkcionális akadályokkal végzünk, mégsem építőmérnökségnek hívják: Luc Besson filmjeiben, a Banlieue- vagy Yamakasi-sorozatokban láttál már lelkes fiatalokat három másodperc alatt lejönni egy épület tetejéről úgy, hogy közben virágot vettek és fésülködtek is, miközben szaltóztak és bukfenceztek kettőt, erről beszélünk most. A mozdulatok íve és a lendület töretlen, a test és az elme folyamatosan reagál a környezetre és az akadályokra, így kerül a flow a képbe, a várost képletesen és nagyon gyakorlatiasan is meghágó speedfreakek (fiúban traceur, lányban nem, ott traceuse, emlékezz vissza a Mirror's Edge főszereplőnőjére, Faith Connorsra, aki kicsit Fila, kicsit meg Nic Endo) minden mozdulatában ott a tudatosság, a koncentrálás, az önuralom és a boldog tudat, hogy a mozgás és az akadályok legyőzése gyakorlatilag önmaga jutalma, meg a melegítőből boldogan és síkosan kicsúszó csaj a nap végén.
Aztán egyértelműen soha semmi nem az, aminek látszik, minden dokufilmben (az alapnak számító Jump Londontól és Jump Britaintől kezdve a bolgár Parkour: Way of Life-on keresztül a YouTube-on is megnézhető The Monkey's Back-ig) elmondják, hogy a falak, korlátok, peremek, betontömbök nem akadályok, hanem új utakat biztosító mozgási lehetőségek amúgy meg there is no spoon, ha pedig megtanulsz mozogni fizikai akadályok között, máshogy fogsz gondolkodni a lelki válságról meg a szellemi kihívásokról is. Aztán megnézed, hogyan trükközik David Belle, Oleg Vorslav, Damien Walters vagy Stephane Vigroux, kiállsz az ablakba, elgondolkodsz, visszamész a géphez, újra megnézed a videót és azt mondod, fog a faszom ugrálni, inkább szakítok vele. Főként, hogy a tizenkét óráig hízlalt hólyagodból már a guangdongi kormányzati hackerek lefetyelik vissza az Arany Ászok DNS-ét és libatápot gyártanak belőle, zsírosat, mire nem jó egy IP-cím.

Apropó, YouTube, DVD-hajtás helyett nemcsak azért éri meg YT-n keresni a parkourvideókat, mert ott ingyen vannak, hanem mert a PK a világ első viral sportja, az atléták, kaszkadőrök és kaszkadőrjelöltek (meg az amatőrök) oda forgatják a showreeleket és csak akkor alszanak el, ha már százezren megnézték őket egy óra alatt. Ha már itt tartunk, a kultúrkertészek által látnokzsályaként ismert salvia divinorum a világ első legális viral drugja, a kutatók hatásmechanizmusért már oda mennek, az összes szerencsétlen a világ szeme előtt akar beállni tőle. A NAT-ban egész gyorsan helyezném el, hogy a versmondást (van még ilyen irodalomórán?) inkább YouTubera vegye fel mindenki, posztolja fel, akinek rumli van a háttérben, karó.
Párizs palettára tette a sportágat a Yamakasi-nemzedékkel és tanítványaikkal, Amerika meg már visszabüfögte annyira, hogy az MTV-n is beindult a műfaj nyilvános gyalázása: az Ultimate Parkour Challenge pont az az alapszabályt szegi meg, hogy a parkour nem versenysport, a kereskedelmi vetületet meg a mentségeket mindenki lebontja magának a júliusi számra házi feladatnak.

Ehhez képest Tokió higgadt és derűs, erre a legjobb bizonyíték Kaspar Astrup Schröder filmje, a Day of Few Spoken Words, ami a legismertebb japán csapat, a "play, train, play" szlogen alatt működő PKTK tagjait mutatja be gyakorlás közben: ők is azok közé tartoznak, akik szerint a parkour és a free running fogalmak különböznek – a PK célja önmagunk fejlesztése, a freeruné inkább a város és az utcák élvezete. Nyilván van metszet a kettő között meg sokszor háztetőkön biztosabb gyakorolni, mint a túlzsúfolt utcákon, de ennek majd utánanéztek – lehet turkálni a parkour.meetup.com/cities/jp oldalán edzőpartnerek után, ha éppen kint jártok. A csapatok annyira regionálisak, mint a szomorú, kopott ballonkabátba és labanc hajkötőbe öltözött live Vampire szerepjátékosok, akik a szerephűség kedvéért két hétig nem fújnak orrot, ha úgy hozza a sors, mindenesetre akadnak bőven Nagoyában (Butterfly-Japan, 0zero), Kagawában (Rikuoh, Culs00), Iwatén (Samurai Tribe, Snatch), Kansaiban meg a Nagare meg a szemtelenül, szemtelenül fiatalokból álló Flux. Ha meg nem láttál még japán PKt, dehogynem, Madonna meglepően jól sikerült Jump videoklipje is erre épül, a tanulást meg kezdd a nagyokkal (parkourgenerations.com), rostosdiétával meg háztetőről ugrálás helyett edzőteremben, hogy a főszerkesztőt ne vigyék el gondatlanságból elkövetett tömeges öngyilkosságra való buzdítás (megvan, hogy halmozott, ugye?) alapos gyanújával, a következő számban megtanítalak titeket nyílt törést visszanyomni rotringgal és kávét főzni aszfaltból. Szevasztok.
Tags: damage, damage report, freerun, gonzo, japan, mondo magazin, paris, parkour