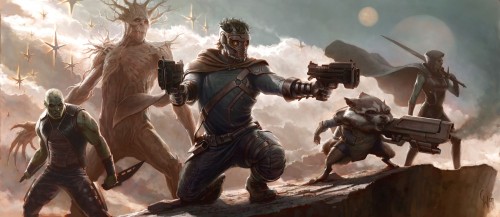 TL;DR: Javaslom, IMAX3D. Ha nekem volt időm megírni, neked is legyen elolvasni, részletezem dühös punk szóvirágokkal, hogy miért.
Túlzófokig csúsztatott pozitív csalódás és értetlenség habzó elegye vagyok.
Magyarázom.Mila Kunis nyári wachowskista szabadesésére, a Jupiter Ascendingre hegyeztük magunkat egész nyáron, a filmipar eltolta a randit jövő februárra, a lógó arcunk mellett ittmaradt Laurence Fishburne indie scifije, az egészen furcsa hangulatot keltő The Signal, meg a csapból is robbanáshangokkal folyó szenzációmaradék, a 2008-ban rebootolt Marvel-szupercsapatos egészestés-teljespupillás, a Guardians of the Galaxy. A marketing puszta ereje persze elég ahhoz, hogy bármit áttoljon a fogyasztók már így is kellemetlenül vékony tűréshártyáján (ízlelgessük ezt a fogalmat még egy kicsit), de nem tudok kellemetlenül zsánerelitista dühös kérdőjel lenni, amikor megkérdezem, hogy tényleg a Blue Swede Hooked On a Feelingje kell, hogy szóljon a jövőben bármilyen műszerfal és bármilyen zenelejátszó környékéről? Nem kvantumambient, nem a fehangzásrólkete huszadik árnyalatáról elnevezett pupillapuhító zaj, nem flex-egyszerűségű spacepunk, hanem… értitek. (A magyarázat persze adott, az emberi főhős Peter Star-Lord Quillt a nyolcvanas években vitték el a Földről, amilyen zenék akkor beragadtak neki, azt a hangzást vitte magával az Univerzumba. Siouxsie Sioux, Joan Jett, Nina Hagen. Ennyit mondanék az űrbe vihető , a theremint meg a TB-303at inkább bedugom az ágyneműtartóba, ne is kerüljön egy lapra az oldalra kikacsintós, kalapbancsajozós funk emlékével sem.)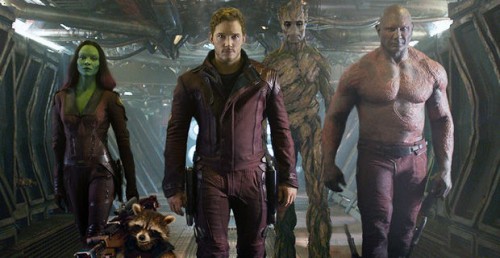 Persze, vélem érteni a marketinget, észak-am piacra célzunk, paperback-gyűjtögető apák tinédzserkori emlékeire, a családjaikra, az egyértelmű geek targetmasszára. Persze, kell a comic reliefként és női fogyasztók figyelmére mágnesező mosómedve (Rocket Raccoon) meg a Vin Diesel hangján háromszavazó borderline vegán öntudat (Groot), az emberi főhős (Space-Lord) botor lúzerséggel színezett tinédszer attitűdje meg mindennapos brit túlélési mechanizmus, ha a briteket megfogtuk, mindenkit megfogtunk az európai kontinensen. Széttárt kezekkel padlózok a konyhapadlómon, persze, hogy elmegyek megnézni a csapattal moziba, hogyne mennék, de most hallok először a Marvel-univerzum ezen szegletéről, továbbá ha már space operát szeretnék, akkor Mass Effect, Cowboy Bebop remake (de csak Keanuval) vagy egy jól irányzott Firefly restart. Így is elég sok hiány van az űrben már, miért tennénk bele a bro-kultusz világmegmentő képzetét, csak azt ne. És tényleg, miért Blue Swede? Hollywood arra tenyésztette ki Celldwellert meg Blue Stahlit, hogy ha a futura egy hajszálnyit is megjelenik, akkor ők gyártsák le a hangokat hozzá.
Így esett, hogy reggel tízkor (ha ismersz, itt már hangosan nevetsz) egy jól kinkelt tumblrszendvics közepén (balra 5149eszter, jobbra kanly) félig alvó húsködként, egy indokolatlanul kék, mondjuk ki: unheimlich 3D szemüveg alatt remegek meg, ahogy a képernyő azt mondja nekem, beugrókérdés: elszámol nekem egy sietve lerenderelt alagútban tíztől egyig, próbáljak közben nem hányni a motion sicknesstől, attól csorog minden szekundum, ha sikerül, továbbmehetnek a pupilláim.
Továbbmentek.
Így lett a Guardians of the Galaxy életem első filmje, amiben értelmét látom a 3D-nek, ami nagy szó, mert a Tron rebootot is levett szemüveggel néztem meg (utána pedig a Király utcai templomon keresztül próbáltam többször is bemenni a Kuplungba, úgyhogy előfordulhat, hogy félrecsúszott a mozgásérzékelésem, de így jár az, aki a tudomány nevében). Az első negyedóra, mondjuk ki, túl részletgazdag lett, amit mondathat velem a kávéhiány is, meg az is, hogy többször le akartam állítani a filmet, hogy visszatekerhessek egy pár részletre. A vizuál ugyanis sűrű, színpompás és gyors, pont elég ahhoz, hogy a hozzám hasonló, túltolt ingerküszöbű dühös felkiáltójeleket is megfogja. (Mielőtt megkérdezed, nem sikerült visszatekerni.) A film kezdeti felütése, a meglepően gyors dobbantás a The Kyln max-sec börtönéből tökéletes preview, lejön belőle, hogy a részletgazdaság és a látványvilág gond nélkül adja el a filmet, a történet pedig csak viccként van a filmben, pontosabban szólva: azért van történetünk, hogy kellően sok helyzetkomikumot lehessen elszórni, szituációst és karakterek közöttit egyaránt.
Eladták nekem az egészet, Eszter, érted?, bukik ki belőlem valahol hat perc környékén, AHAKUSSNÉZEK, ő valahogy így reagál rá, úgyhogy tudom, hogy őt is megvették, pedig egymás mellett egész gonosz kritikusként foglaltunk helyet, kitettek nekünk egy repülő mosómedvére szögezett, animált Photoshop color pickert, mi pedig lenyeltük engedelmesen. Amúgy szólok, jó íze volt és mosómedve ide vagy oda, az eddigiekből ítélve a legjobb comic relief karakter bőven Groot és Rocket Raccoon kettőse lesz, várom is a spinoffot belőlük, a többi karakteről ugyanis kellően kétdimenziós és kétjellegű, Gamora szép és halálos, Drax dühös és erős, Star-Lord pedig szemtelen és emberi, én pedig minden végtagommal harcolok azellen, hogy ne egy embernek drukkoljak egy különböző fajoktól hemzsegő univerzumban. Kötözködnivaló tehát bőven van, ahogy egy középre főzött mainstream film esetében ez a spacepunkoktól bőven elvárható, a coolness factor és a hangulat viszont átvisz mindent. Mindent. Még a Blue Swede szemöldöktépő zenéjét is.
Úgyhogy augusztus 14, premier.
Az IMDB reviewk ezrei szerint 9/10 a film.
Hajlok arra, hogy azt mondjam: megértem, miért.
Read More